Compact, tube-based, hybrid integrated amplifier from Vincent, includes DAC.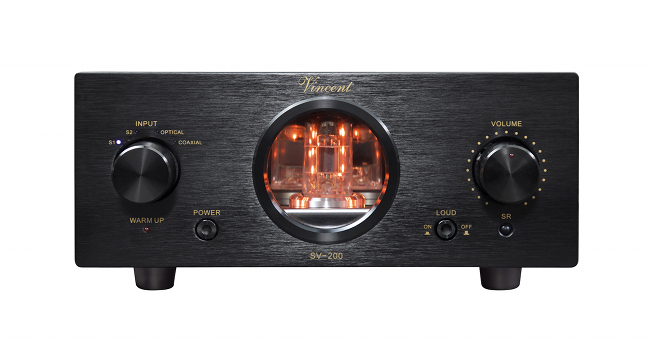 Source: Corporate website, Last Accessed: 2019/11/04
The Tube-Line in a compact design, but not "compact" in sound quality - that's how Vincent introduces their new SV-200 hybrid amplifier. In fact, SV-200 is a little brother of the SV-237MK and SV-700, using a circuit which includes both transistors and tubes and offering both analog and digital inputs.
Despite the construction in midi format, with a 210mm wide chassis, only a few compromises had to be made in terms of technology, the company states. As with the SV-700, Vincent opted for a design based on the SRPP principle (Shunt Regulated Push-Pull), an approach which provides high dynamics and a low noise level. In the preamplifier input stage, Toshiba's FET transistors, work in combination with two 6N1 tubes, which then process the signal in terms of sound style. In the power supply, a toroidal transformer features an Elco-made capacitor filter with a total capacity of 13600uF. The final current gain in the output stage is taken over by four Toshiba transistors operating in Class AB mode. Nominal power is 25W per channel in 8 Ohm load.
For connecting various sources, the SV-200 has two analog inputs and two digital inputs, one optical and one coaxial. For connecting a recording device and a power amplifier or active subwoofer, a Rec output and a Pre output are available. A high-quality remote control is also included. SV-200 is available in Black or Silver color.
For more information: https://www.vincent-tac.de/
---