Wilson Benesch's Omega Drive is featured in GMT ONE system.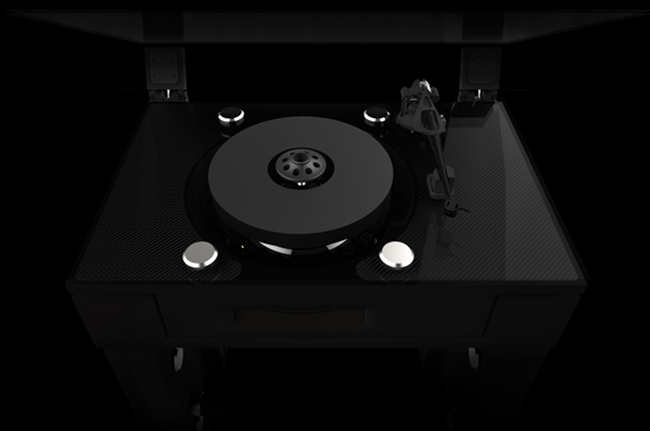 Source: Press Release, Last Accessed: 2019/05/06
The Omega Drive is the world's first axially orientated, precision magnetically geared turntable drive, a patented system which, according to Wilson Benesch, delivers unprecedented accuracy and virtually zero noise. The new system is featured in the GMT ONE, a turntable announced to mark the company's 30th anniversary.
The result of more than 20-years of collaborative development, GMT ONE System is a ground-up optimised turntable design that represents a coherent unified solution. Its name is derived from Greenwich Mean Time which has for 135-years been the reference by which people around the world have measured time. Developed under the name "Mondrian Project" the GMT ONE has benefited from grant funding from both the UK and Europe and features a novel drive which. according to the press release, lays claim to being the most accurate drive system ever developed for a turntable. Omega Drive system does not rely upon a belt, an idler drive, nor is a direct drive system. It is a recently patented magnetic gear technology which shifts the paradigm by redefining a completely new mode of drive which, according to Wilson Benesch, attains unprecedented levels of accuracy and virtually zero noise thanks to the axially orientated binary bearing design at its heart.
Additionally, to compliment the Omega Drive, Wilson Benesch introduced the Alpha Isolation System, developed in partnership with an industry leading, optical measurement system isolation company. The Alpha Isolation System achieves levels of isolation that function at the microscopic level where resonance is a major concern just as it is in vinyl transcription. Pneumatic rams that are electronically monitored provide precise levelling. Even if the system is disturbed during use, it will re-adjust within milliseconds to zero. The resonant frequency of the system is 1.7Hz.
Three new tonearms will be available to use with the GMT ONE at its launch. The reference tonearm Graviton, which features a high modulus, geometrically optimised single piece carbon fibre tube, the low mass design, Moment, and the low-medium mass design, CTi-30. All three tonearm assemblies are based on uni-directional enhanced carbon fibre that is further enhanced by both carbon nanotubes and graphene. Each design is complete with headshell and counterweight components that have been additively manufactured using state-of-the-art technologies. The GMT ONE also features the Piezo VTA adjustment technology allowing adjustments made remotely, from the listening position, to within 2.5 microns, using a remote control.
Both the GMT ONE and the Alpha Isolation System are fully compatible with Wilson Benesch's R1 HIFI Rack. Together, they form a highly optimized, analogue replay system. A prototype unveiled during this year's High End Show in Munich. Availability is expected near the end of the year, but the price is yet to be confirmed.
For more information: http://wilson-benesch.com/
---