ATC launches Limited Edition SCM150ASLT Active loudspeaker System.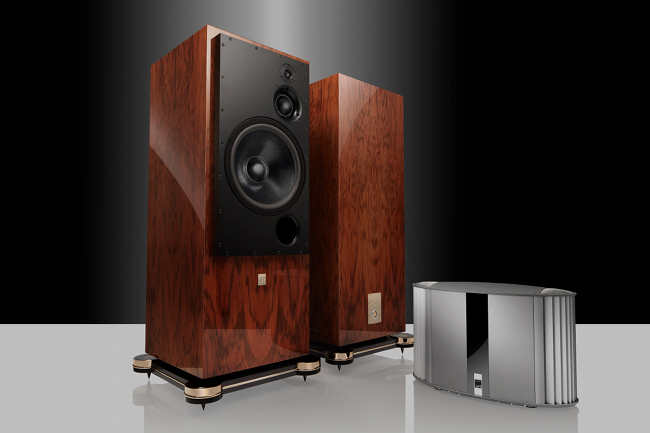 Source: Press Release, Last Accessed: 2020/07/02
ATC recently announced the availability of the SCM150ASLT, a luxurious marriage of world-class transducer and electronic design engineering, conceived to deliver extraordinary levels of clarity, neutrality, transient response and effortless power delivery. The limited edition system brings exceptional focus to a 45-year heritage of innovation and precision engineering.
The 3-way system comprises flawlessly engineered SCM150ASLT speaker towers incorporating the latest ATC designed and built drive unit technology, combined with an ATC P6 power amplifier. SCM150ASLT drivers including the new 25mm neodymium soft dome SH25-76S super dome tweeter, the 75mm soft dome SM75-150S super dome midrange and the SB75-375SL super linear bass driver are driven directly by the six dedicated channels of the P6 dual-mono, 3-way power amplifier, housed in an elliptical billet aluminum chassis, exquisitely machined and finished to complement the impeccable quality of the cabinets.
Manufactured to the highest standard by ATC's own cabinet makers, weighing 116kg and at approximately 1.4m tall, each speaker enclosure is finished in selected European crown-cut walnut veneer with a high-gloss polyester lacquer, and detailed with a stainless steel badge, input panel and bespoke limited edition plinth, PVD treated to create an exclusive nickel-like appearance.
Deploying proprietary drivers throughout, the 3-way system uses ATC's new SH25-76S tweeter, featuring both upper and lower suspension for greater operational precision and lower distortion; the latest evolution of ATC's signature soft dome midrange design, the SM75-150S, and the company's low-distortion SB75-375SL Super Linear bass driver. Combined, they deliver a response accuracy of ±2dB between 60Hz-17kHz and ±6dB from 25Hz to 22kHz across a wide horizontal dispersion and at a maximum SPL of 117dB. The rear-mounted input panel features a single LEMO aerospace-grade 10-pin connector.
The P6 is a high-performance Class AB dual-mono power amplifier designed and built by ATC to provide dedicated amplification and optimally matched active crossovers for the SCM150ASLT. It features a total of 6 channels: 2x (200W LF, 100W MF, 50W HF) for a combined output power of 350W/side. With a signal-to-noise ratio of more than 105 decibels, its ultra-low noise discrete design, paired with 3-way active crossovers with phase equalisation, offers clear and detailed audio reproduction, the company says. On the rear panel, professional L/R XLR inputs (from preamplifier/digital source) are joined by aerospace-grade LEMO multi-pin loudspeaker output connectors.
As is customary with ATC products, the SCM150ASLT and P6 are covered by a six-year warranty. Only 22 pairs are available and on a first-come-first-served basis. The product is available to order immediately. Built to order, the earliest shipping date is Wednesday 5th August.
For more information: http://atcloudspeakers.co.uk/
---