AWKT, AWAS and WP900: Audio-Technica's high-performance, exotic wood-finish and innovative headphones.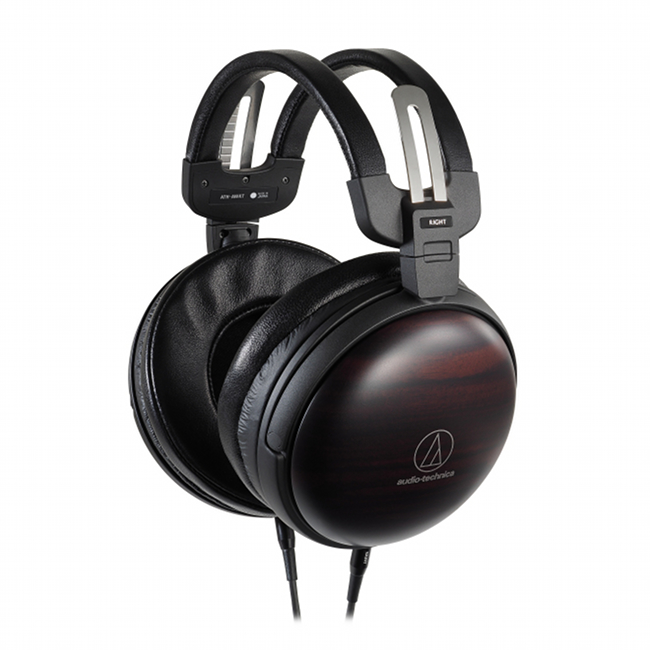 Source: Press Release, Last Accessed: 2020/04/06
The over-ear ATH-AWKT and ATH-AWAS audiophile and over-ear ATH-WP900 portable headphones, combine beautifully crafted woods with superb sound quality, while the ATH-IEX1 features an exclusive hybrid multi-driver system for an unmatched in-ear listening experience.
The ATH-AWKT features housings made from prized Kokutan (striped ebony) hardwood. Long used for woodwind instruments and pianos, Kokutan is distinguished by its attractive black and brown stripes, and the housings have a hand-applied semi-gloss finish that brings out the wood's natural beauty. In addition, the high density of the Kokutan wood suppresses unwanted resonances to contribute to the headphones' clear, natural sound. The set features 53 mm drivers with a highly efficient Permendur magnetic circuit with extremely high flux density for expansive, powerful sound with a frequency response from 5–45,000Hz. The drivers are mounted in a lightweight titanium flange, have 6N-OFC (high-purity oxygen-free copper) voice coils and features Audio-Technica's exclusive D.A.D.S. (Double Air Damping System), for increased and articulate bass output. The ATH-AWKT uses natural sheep leather ear-pads and headband, and magnesium-alloy ear-cup arms that are angled to provide a comfortable fit as well as the best-possible seal.
The ATH-AWAS are made with rare Asada Zakura (Ostrya Japonica, a type of ironwood) renowned for its use in high-end loudspeakers because of its beauty, durability and ability to limit undesired resonances. The Asada Zakura wood's red coloration is enhanced by the headphones' hand-applied semi-gloss finish. The set is equipped with large-diameter 53 mm drivers with an exclusive DLC (diamond-like carbon) diaphragm coating, integrated pure-iron yoke and 6N-OFC voice coils for detailed, natural audio from 5–42,000Hz and, also, features the D.A.D.S technology.
The ATH-WP900 Hi-Res Audio over-ear headphones aspire to deliver outstanding on-the-go audio in a compact, portable design accented by striking flame maple wood earpieces. Maple is a stiff, dense wood used to make stringed instruments like guitars and violins, and the ATH-WP900 features machined solid maple earpieces covered by a layer of flame maple provided by renowned Japanese guitar manufacturer Fujigen. A specially designed angled baffle controls the airflow between the front and rear of the diaphragm to deliver better bass and midrange reproduction, and positions the earpieces for comfort and sound isolation. The ATH-WP900 comes with two detachable 1.2m cables (A2DC to 1/8-inch plug and A2DC to 4.4mm 5-pole plug). The headphones fold flat for easy transport in its included carrying pouch.
The ATH-IEX1 sets a new standard for in-ear listening, the company says, thanks to its hybrid multi-driver system that employs dual-phase 9.8mm and 8.8mm drivers, plus two balanced armature drivers. These are mounted in a solid titanium housing and mounted along a coaxial line. The 9.8mm driver operates as a full-range unit while the 8.8mm driver functions as a passive radiator to augment the bass frequencies. These drivers face each other and move in unison, a configuration that provides maximum output and reduces distortion. The balanced armature drivers act as super tweeters for extended high-frequency reproduction (5-50,000Hz).
For more information: https://www.audio-technica.com/
---