M 002 P: Ballfinger unveiled new open reel, playback-only, tape deck.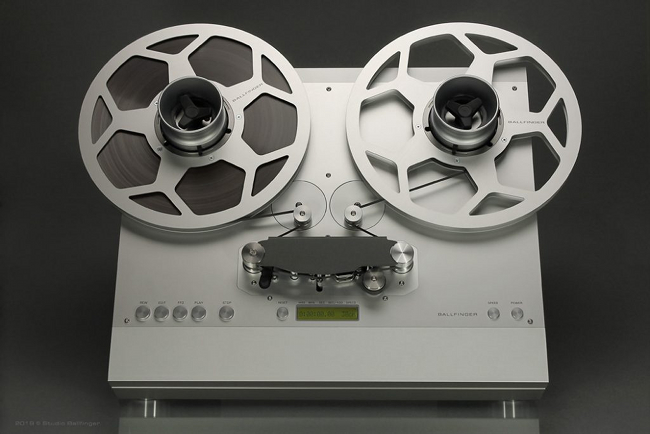 Source: Corporate website, Last Accessed: 2020/02/06
The M 002 P is a pure playback machine and provides an upgrade path, since -in addition to the internal amplifiers, the tape head is directly connected to the XLR connectors, so the machine, similar to high-quality record players, can serve as a pure drive and can be combined with various external playback amplifiers.
The base for the compact Ballfinger M 002 P comprises the new, super compact tape transport system at just 50 mm high. This consists of a stiff aluminum plate with fine-milled surfaces, to which all the mechanical components are fastened. The reels are driven by iron-less disc motors, which are brushless and fitted with tape tension control on both sides. The machine has a tape path geometry with a completely new layout. The sensors are therefore not located beneath the reels, as is conventional, but rather between them and directly above the head block. Despite its modest dimensions of 460mmx380 mm, the M 002 P can therefore accommodate reels with a diameter of up to 300 mm. Loading a tape is also self-explanatory and extremely simple.
The capstan shaft is belt-driven by a brushless DC motor. This has allowed the tape head and capstan motor to be installed far apart from each other, which in turn results in a very high signal-to-noise ratio for the audio signal, the company says. Additionally, the power supply unit has been relocated outside the device, which has enabled further enhancement of this ratio and also means that complex measures for electromagnetically screening the tape heads were superfluous.
The M 002 P is equipped with a digital real-time counter mechanism that counts hours, minutes, seconds and hundredths of seconds. The current counter reading is saved every time the device is switched off, and displayed again when it is switched back on. As is otherwise only conventional with large studio devices, the tape deck boasts an editing function with preview option for one-handed operation. The machine offers two tape speeds (19cm/s and 38cm/s) and can be ordered as a 1/4-inch Stereo with 2,00 mm or 2,75 mm track width.
The device has been primarily designed for horizontal operation. However, it can also be operated vertically. Further features include electric (and therefore wear-free) brakes and deep groove ball bearings on the capstan shaft and pressure roller, which keep service requirements to a minimum. The M 002 P will be available Summer 2020, in silver frosted and wooden or black finish.
For more information: http://www.ballfinger.de/
---