Bryston unveiled the BR-20 preamplifier.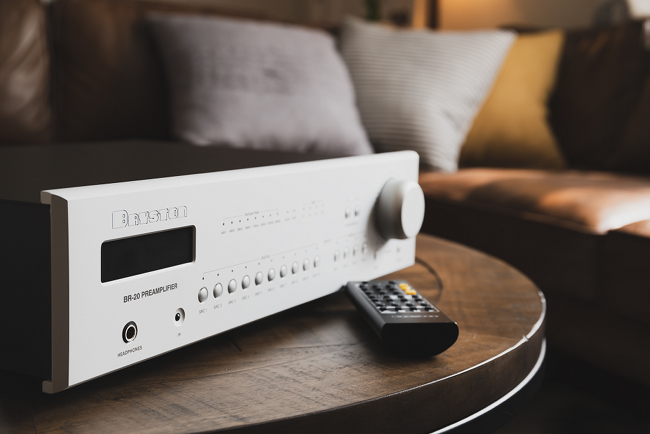 Source: Press Release, Last Accessed: 2020/10/08
The BR-20 breaks new ground, merging Bryston's brand new, best-ever analog preamplifier with their award-winning DAC and bit-perfect high-resolution streaming capability all into a single chassis. Music enthusiasts can connect up to 14 analog and digital source components plus enjoy built-in high-resolution streaming from Qobuz, Tidal, and access to their own music collections. Initially called the BP-18, the BR-20 nomenclature was chosen to honor Bryston President Brian Russell, who passionately devoted his life to the Bryston brand. Brian passed away in September, 2020. The BR-20 combines a brand new, highly advanced analog preamplifier with the company's flagship digital-to-analog conversion (DAC) platform and a high-performance streaming music player to create an ultimate performance audiophile hub.
The BR-20's analog preamplifier is a byproduct of years of R&D that resulted in the development of an optimized discrete buffer amplifier capable of delivering a staggeringly low THD+N measurement at, or below, 0.0006%. The analog signal path is a fully balanced design, using an array of very tightly matched components and a compact circuit design to achieve the lowest possible noise and superior common mode rejection.
The BR-20 features Bryston's most advanced DAC and connectivity for an additional four HDMI sources becomes accessible when using the optional HDMI card. The internal DAC can decode PCM up to 384 kHz/24 bit and DSD 256 (DSD x4), and it has the unusual capability to decode DSD over HDMI. The bit-perfect digital music player inside the BR-20 ensures the smoothest possible user experience along with the ability to effortlessly manage large music libraries thanks to gigabit Ethernet, more RAM and the addition of USB 3.0 connectivity for external music storage. The BR-20's built-in music player will natively pass PCM up to 384kHz and DSD128 to the DAC.
The preamp features Bryston's most powerful on-board headphone amplifier ever offered, providing the high-output and critical low-output impedance to drive even inefficient headphone models. The new Low Z headphone amp utilized in the BR-20 delivers startling clarity and dynamic capability second only to Bryston's legendary BHA-1 outboard headphone amplifier.
The BR-4 remote control can be configured by each user to command each source component, and a web-enabled phone or tablet can be used to adjust volume and change sources. Users can rename inputs and hide those not in use.
The Bryston BR-20 is expected to ship to dealers Q4, 2020 with a US MSRP of $5,995.
For more information: https://bryston.com/
---