HighEnd 2021 Show rescheduled for September.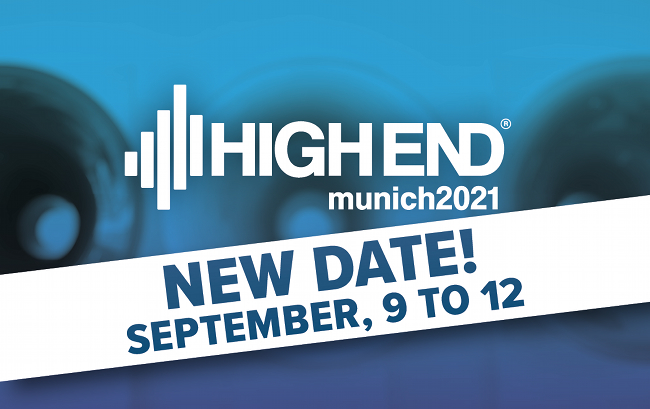 Source: Press Release, Last Accessed: 2020/12/11
HighEnd 2021 audio show, which was planned to take place in mid-May, has now been moved to the late summer, namely from 9th to 12th September 2021 to ensure a successful relaunch and also to increase planning reliability for all parties involved. The new OEM show IPS will also move to September and will take place from 9th to 10th September 2021 in the MOC Munich alongside the HighEnd.
According to the press release, the organizer feels that it is necessary to take this step despite receiving an extremely positive number of bookings and implementing a comprehensive hygiene and infection protection concept. "We are gaining four months, which will provide our clients from outside of Germany in particular with more time to reliably plan their participation", explains Managing Director Stefan Dreischarf. At the end of September, Dreischarf and his team sent out invitations to the HIGH END 2021which was scheduled for May. They have been continuously receiving bookings ever since, with uninterrupted demand displaying similar tendencies to that of last year's event. Nonetheless, the organizer is also receiving worried inquiries on a daily basis, namely from trade show participants expressing growing concerns regarding the new significant increase in cases of infection with the SARS-CoV-2 virus worldwide. Strict travel and quarantine requirements are causing exhibitors from abroad in particular to hesitate given that they cannot yet foresee when these restrictions will be lifted.
The latest news on a highly promising vaccine has now increased the likelihood that the spread of the corona virus will slow down significantly. Dreischarf is convinced that: "In light of this positive prospect, there's every reason to believe that the effects of an immunization will be much more prominent in the late summer of 2021 than in May. We therefore expect that by then, virtually no more limitations will apply to international travel." For exhibitors and visitors from outside of Germany, the later dates of the event therefore make the entire planning of the trade show much easier – without the current concerns and with more scope for decision-making until the new registration deadline at the end of March 2021.
For more information: https://www.highendsociety.de/
---