KEF Revealed the LS50 Collection, the first speakers to feature their Materialism Absorption Technology.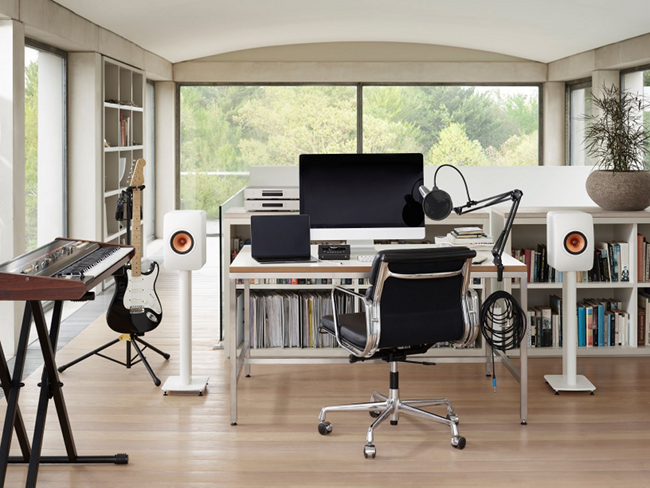 Source: Press Release, Last Accessed: 2020/09/22
KEF recently launched the LS50 Collection, comprising of the LS50 Meta bookshelf speaker and the LS50 Wireless II wireless Hi-Fi speaker. Both speakers are an innovative evolution from previous iterations.
In a joint development initiative with the Acoustic Metamaterials Group, KEF has harnessed MAT by creating a synthetic material that has the super capacity to absorb all unwanted sound radiating from the rear of the driver, reducing distortion and enabling the prevention of audio distraction. MAT is a highly complex maze-like structure, where each of the intricate channels efficiently absorbs a range of specific frequencies. When combined, the channels act as an acoustic black hole, absorbing 99% of the unwanted sound. Other traditional approaches have only allowed around 60% absorption, so the resulting acoustic quality is incomparable, the company says.
The LS50 Collection hosts a specially designed 12th generation Uni-Q with MAT, with new and enhanced features. The Uni-Q technology disperses sound evenly around the room and KEF says that wherever you are, you'll experience the same authentic soundscape. The enhancements include a new cone neck decoupler and motor system, an off-set flexible bass port, a low diffraction curved baffle, and rigid cross bracing with constrained layer damping.
The LS50 Wireless II features a combination of the exquisitely formed cabinet with advanced Digital Signal Processing – KEF's Music Integrity Engine and impactful 380W of amplification. Α new 100W class AB amplifier powers the tweeters and a 280W class D amplifier powers the mid/bass drivers. The KEF Connect app means that you can tailor the sound to the environment in which you are listening to it. The left and right speakers are connected wirelessly; alternatively, users may connect the supplied "interspeaker" cable.
With the KEF Connect app, you can stream Tidal, Amazon Music, Qobuz, Deezer, Internet Radio stations and podcasts.  And you can stream directly from the native app with Spotify Connect. LS50 Wireless II also has audiophiles covered with support for streaming music files up to 24bit/384kHz, as well as MQA Decoding and DSD256 for truly high-resolution audio playback. LS50 Wireless II is also certified Roon Ready and supports AirPlay 2, Google Chromecast and Bluetooth. There are also wired connections for TV, turntable, CD player and games console, via the HDMI, analogue, optical and coaxial sockets.
For more information: https://kef.com/
---