No longer just for pros: Kerr Acoustic loudspeakers now available to home listeners.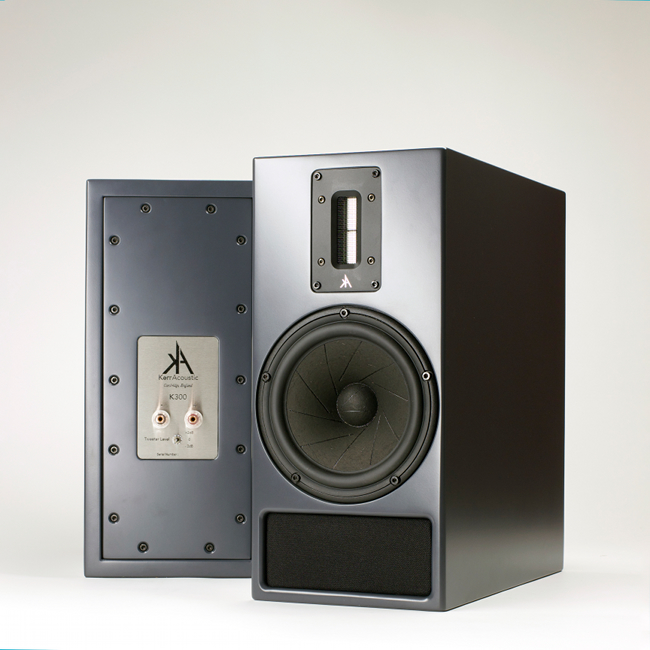 Source: Press Release, Last Accessed: 2020/02/28
Kerr Acoustic is already a well-known name in professional audio circles - the company's loudspeakers were used to mix and master rapper J Hus's Big Conspiracy, which has just enjoyed a week-long stint at number one in the UK's official top-40 album charts. Now, founder Jes Kerr plans to bring his high resolution loudspeakers to the home audiophile market, via a new UK distribution agreement with Berkshire-based Sound Fowndations.
Kerr's loudspeakers feature a combination of drivers that's rare in both home and professional audio: mid-range and bass units from the excellent Dorset–based Volt are married with true ribbon tweeters crafted to reveal every nuance with surgical precision. Another key defining factor of the range is the unique Kerr Acoustic transmission line bass loading, which extends the bass frequency a response way down, as low as 16Hz in the K100 (and even down to 33Hz in the standmount K300).
The Kerr Acoustic range currently includes three models, with a fourth planned later this year. At the top end, the K100 3-way floorstander was designed to set new standards in professional monitoring and critical listening. As a full-range home loudspeaker, it offers tremendous high and mid-frequency resolution coupled with outstanding bass power, control and detail, the company says.
The K300 2-way standmount was also conceived for studio use, but -equally- offers unique benefits in the home. In the studio, this mini-monitor sits on top of the mixing desk, while in the home, it makes for a medium-sized standmount speaker. And if you want all of the K300's benefits in a floorstander, the 2-way K320 has been developed to do precisely that, and is specifically crafted for the home audiophile.
For more information: https://www.kerracoustic.com/
---