Klipsch introduced McLaren Racing-inspired true wireless sport earphones.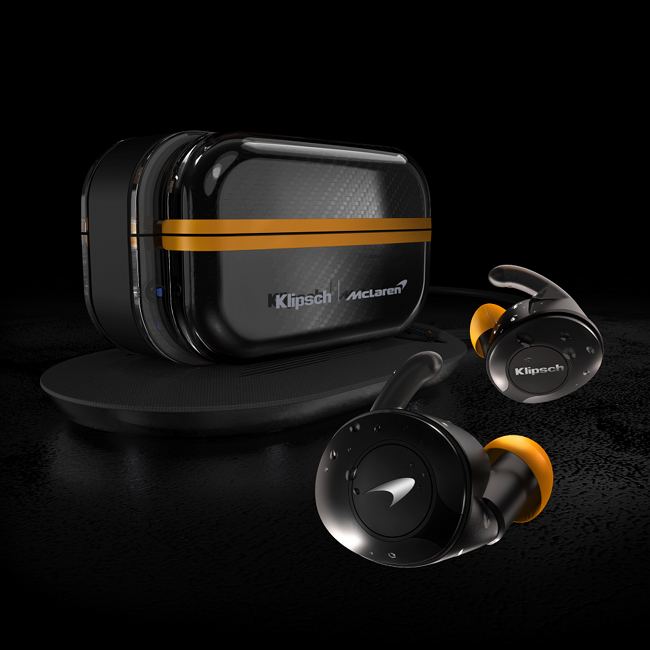 Source: Press Release, Last Accessed: 2020/07/08
Klipsch recently introduced three new true wireless earphones that are designed to deliver best-in-class sound, comfort, technology and materials. Each new model features an innovative and functional case.
Klipsch is the official headphone and portable audio partner of the McLaren Formula 1 team. The two companies have collaborated to combine McLaren's unparalleled design ethos and technical innovation with Klipsch's legendary high-fidelity audio and unparalleled comfort. The result is the Klipsch T5 II True Wireless Sport McLaren edition earphones — engineered for extreme performance and designed to stay dry and in place through anything life throws at them. Key features include dust and water-tight earphones and case (rated IP67) with moisture removal system, to ensure the earphones remain dry and six pairs of patented Klipsch ear tips. The case charges via USB-C or wirelessly with the included one-position wireless charging pad, offering up to 32 hours of battery (8 hours in the earphones). The earphones are finished with McLaren's hallmark Papaya Orange and carbon fiber accents, special edition brand book, and include a serialized metal card of authenticity.
The new Klipsch T5 II True Wireless Sport earphones include the same features as the Klipsch McLaren model, and are available in two colors – black and white. While the case charges wirelessly and via USB-C, it does not include a wireless charging pad.
The KlipschT5 II True Wireless earphones are the second generation of its acclaimed T5 predecessor. The earphones are approximately 25% smaller and more closely mimic the shape of the ear for maximum comfort. The earphones are dust and waterproof (rated IP67) and fit into a slimmer premium brushed metal case that holds up to a combined 32 hours of battery life (8 hours in the earphones).
The free Klipsch Connect App is available in eight languages and allows users make product updates, EQ adjustments, access the quick start guide and troubleshoot, detect device battery status and manage transparency controls.
All new earphone models are available for pre-order on July 10 through authorized retailers. Prices are €279,- for the McLaren edition mode, €229,- for the T5 II True Wireless Sport model and €199,- for the T5 II True Wireless (RRP).
For more information: https://www.klipsch.com/
---