Klipsch The Fives highlight the power of connection.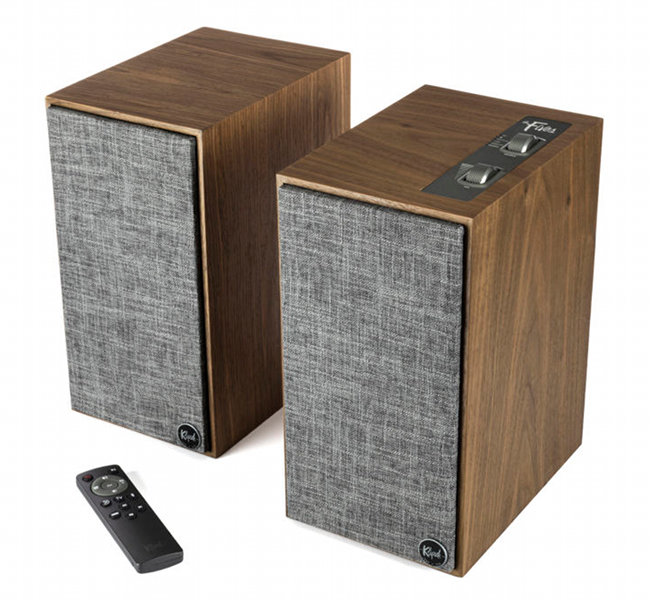 Source: Press Release, Last Accessed: 2020/07/01
New powered stereo speakers from the celebrated US maker come equipped with comprehensive connectivity, including HDMI ARC and Bluetooth. Part of Klipsch's Heritage Wireless series – expect real wood veneers, metal switches, a "mid-century modern" design, and a beautiful finish – The Fives bring all you need to create an awesome sound system for music and movies. These are among the very first powered speakers to feature HDMI-ARC – the technology that enables you to connect the speakers directly to the TV – making them a bona fide soundbar alternative, as well as a true Hi-Fi system-in-a-box, the company says.
Klipsch The Fives feature a 3.5mm aux-in Bluetooth 5, HDMI-ARC, Optical digital input, an analogue which is switchable between Phono and line, a subwoofer output and a USB port, supporting 24/192 playback. In addition to this extensive connectivity, The Fives house considerable custom engineered amplification. Ultra-low noise amplifiers are bi-amped to drive the two speaker cabinets, each of which employs a 25mm titanium TLS vented tweeter with Tractrix horn and 11cm long-throw woofer. The rear of the cabinet features a Tractrix port, borrowed from the premium Reference Premiere speaker line, to further enhances the bass.
The Fives feature Klipsch Dynamic Bass EQ, a tech typically only available with AV receivers. Here, the Klipsch system dynamically matches the ear's ability to hear lower frequencies, resulting in powerful, yet well-controlled, bass whether the listening volume is low, cranked up to 11, or somewhere in the middle.
For more information: https://www.klipsch.com/
---