Magico introduced the MRACK audio equipment stand.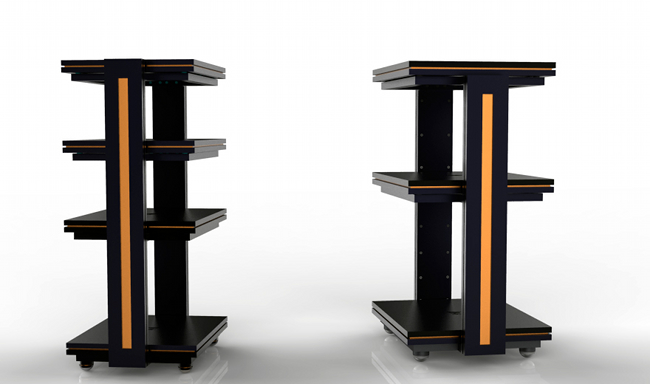 Source: Press Release, Last Accessed: 2019/09/24
Employing the culmination of knowledge accrued in resonance control and energy dissipation through the development of their "Q" and "M"' loudspeaker series as well as the POD products, Magico now offers what they say is the most acoustically resolving and structurally inert audio equipment stand, the MRACK.
The MRACK is available in 3 and 4 shelf variants and finished in a beautiful and durable brushed black anodize. The middle shelves are factory adjustable to optimize each rack to any equipment complement and are coupled to the floor with the renowned Magico MPOD for top to bottom vibration management. According to the press release, each shelf weighs about 36kg and is formed with five layers of constrained-layer-damped aluminum, copper and ISODAMP elastomer designed to channel energy away from the device, while capturing and dissipating that energy into heat. The side struts that comprise the structure of the MRACK utilize the same CLD layered architecture, to further control the resonances of the system and the surrounding environment.
The racks will utilize a copper grounding rod, which will allow the user to ground individual components as well as the shelves themselves to funnel noise from the electronics and the under skeleton of the rack resulting in even higher resolution and clarity from the whole system, the company says. The grounding rod, in turn, can be connected to external ground. The 3 and 4 shelf racks will employ 2 sets of cable management apparatus per elevated shelf to organize cabling and reduce tension on IEC connections.
In addition to the 3 and 4 shelf equipment racks, 2 sizes of vibration dissipation platforms will be offered to support stand-alone amplifiers and equipment using the same CLD architecture as the racks and mounted on 3 MPODs per platform.
For more information: https://www.magicoaudio.com/
---