Marantz introduced new 8K Ultra HD AV Surround Preamplifier.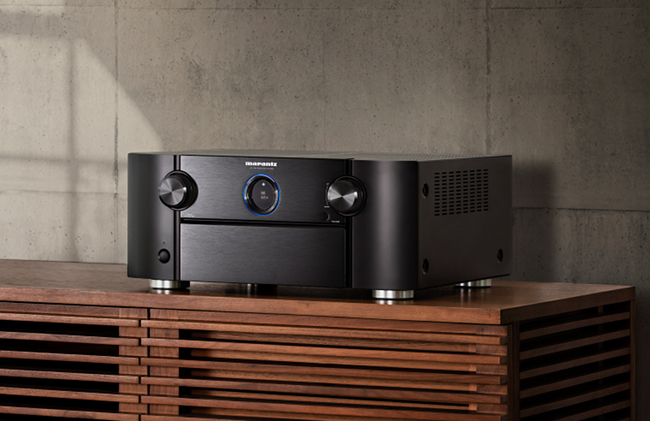 Source: Press Release, Last Accessed: 2020/10/12
Featuring 11.2 Channels of balanced and unbalanced pre-outs, masterful 8K HDMI connectivity and Marantz's signature musicality, the AV7706 aspires to be the ultimate foundation for an immersive home entertainment system. Designed for use with high-quality external amplification like the Marantz MM8077, MM7055 and MM7025, the AV7706 is not only a superb AV processor, it is a carefully designed analogue preamplifier with Marantz's proprietary HDAM circuitry in the preamp section. Additionally, ELNA capacitors together with other selected components in the analogue and digital section ensure exceptional power and dynamic ability for traditional physical sources, like record players and CDs as well as any digital media.
The AV7706 provides ample connectivity options with eight HDMI inputs and three outputs. One dedicated 8K input supports 8K/60Hz or 4K/120Hz pass-through capability, while all other inputs support up to 4K/60Hz and 4:4:4 Pure Color sub-sampling, Dolby Vision, HLG, HDR10, 3D, BT 2020 pass-through and the latest HDCP 2.3 copy protection standard. The AV7706 enables enthusiasts to elevate their video viewing, gaming and TV watching experience with HDR10+, Dynamic HDR, auto low latency mode (ALLM), variable refresh rate (VRR), quick media switching (QMS), and quick frame transport (QFT) support on all inputs. The video processor can also upscale any native video source up to 8K quality. In addition, the AV7706 features HDMI eARC which supports 3D audio formats like Dolby Atmos and DTS:X in masterful quality directly from the TV source.
The AV7706 supports streaming up to FLAC192 and DSD5.6 and includes a dedicated preamplifier board featuring HDAM technology with a separated power supply. D-to-A conversion is performed through reference-class 32-bit AKM D/A converters on all channels supported by two Sharc Griffin Lite DSPs. The Phono EQ stage is as well equipped with the Marantz HDAMs offering high speed signal handling and maintaining a clean audio signal for exceptional sound performance. In this way it protects the character of the music and its realism.
For more information: https://www.marantz.com/
---