Marantz introduced new 8K-Ready AV Receiver and AV Amplifiers.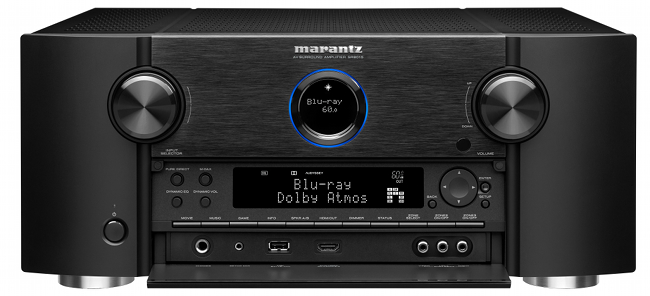 Source: Press Release, Last Accessed: 2020/07/07
Marantz announced the latest edition of their SR-Series, comprising the SR5015 AV Receiver and the AV Amplifiers SR6015, SR7015 and SR8015. The 8K-ready AV receiver line offers the most musical sound from any source, including home theater, vinyl and streaming media, the company says. Like all Marantz products, the 2020 SR-Series AVRs are extensively tuned by world-renowned sound acousticians at state-of-the-art facilities, producing Marantz's unique audiophile-quality sound.
The lineup consists of the SR5015 featuring 7ch with each 180W supporting Dolby Atmos and DTS:X, followed by the SR6015 with 9ch and 185W adding IMAX Enhanced certification. The later one already features 11.2ch processing and opens the possibility to extend the setup by an external stereo amplifier. The same counts for the 9ch 200W SR7015 with its second display behind the aluminum trap door and the well-known AURO 3D format added to the list. The flagship SR8015 comes with 11ch 205W amplifiers built in, 13.2 processing capabilities, DTS:X Pro support and high quality construction with single board amplifier design, toroidal transformer or copper plated chassis for a flagship performance.
The DTS:X Pro will allow users to enjoy up to 13 channels of DTS:X decoding with speaker configurations such as 7.2.6 or 9.2.4. Listeners can also enjoy the latest in IMAX Enhanced films in 7.2.6 or 9.2.4 speaker configurations thanks to newly adopted 13.2 channel processing capabilities with external amplification. The DTS:X Pro feature will be delivered via firmware update later this year.
In addition to DTS:X Pro, the 2020 SR-Series feature several other 3D audio formats, including Dolby Atmos, Dolby Atmos Height Virtualization Technology, DTS:X, DTS Virtual:X, IMAX Enhanced and Auro-3D out-of-box.1 The latest height virtualization technologies provide immersive audio without height channels, creating virtual height effects in a 7.1, 5.1 or 2.1 speaker arrangement.
For more information: https://www.marantz.com/
---