McIntosh announced MA12000 hybrid integrated amplifier.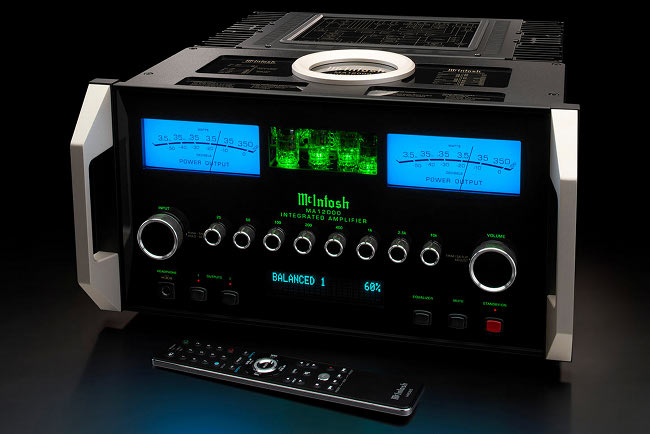 Source: Press Release, Last Accessed: 2020/10/09
The MA12000 is a hybrid design with the preamplifier section powered by four 12AX7A vacuum tubes (2 tubes per audio channel), while the 350 Watt power amplifier section employs a solid state design. McIntosh's Autoformer technology guarantees the speakers will always be capable of receiving that full 350 Watts whether they have 2, 4 or 8 Ohm impedance.
There are 10 analog inputs on the MA12000 consisting of 2 balanced and 6 unbalanced inputs, plus 1 MC and 1 MM input. Both phono inputs feature adjustable loading for fine tuning the MA12000 to a specific turntable configuration. The MA12000 also has one balanced and one unbalanced output to connect to an additional amplifier that's used in a different part of the house.
For digital music, the MA12000 comes with McIntosh's DA2 Digital Audio Module factory installed. Located in the DA2 are 7 digital audio inputs: 2 coaxial, 2 optical, 1 USB and 1 MCT (for use with their MCT series of SACD/CD Transports), and 1 audio-only HDMI Audio Return Channel (ARC) connection. The DA2 is powered by a next generation, Quad Balanced, 8-channel, 32-bit Digital-to-Analog Converter (DAC). The DA2 supports high resolution digital audio playback, as the USB input supports native playback of up to DSD512 and DXD up to 384kHz, while the coax and optical inputs can decode digital music up to 24-bit/192kHz. The HDMI (ARC) input allows TVs with a compatible HDMI (ARC) output to be connected to the MA12000 to bring a new level of audio performance to your TV and movie watching that TV speakers or soundbars just can't provide. The DA2 can be replaced by future modules to keep the MA12000 up to date as new digital audio formats and technologies are developed. The DA2 has also received Roon Tested designation from Roon Labs, which can be especially useful when having an extensive library of digital music.
The top of the MA12000 is highlighted by some updated industrial design elements. The Autoformers and power transformer are now contained in a new glass topped enclosure capped by a glass name plate encircled with a decorative trim ring. Key performance specifications and a detailed block diagram are printed on 5 glass panels.
For more information: https://www.mcintoshlabs.com/
---