McIntosh announced MC830 solid state amplifier and C8 vacuum tube preamplifier.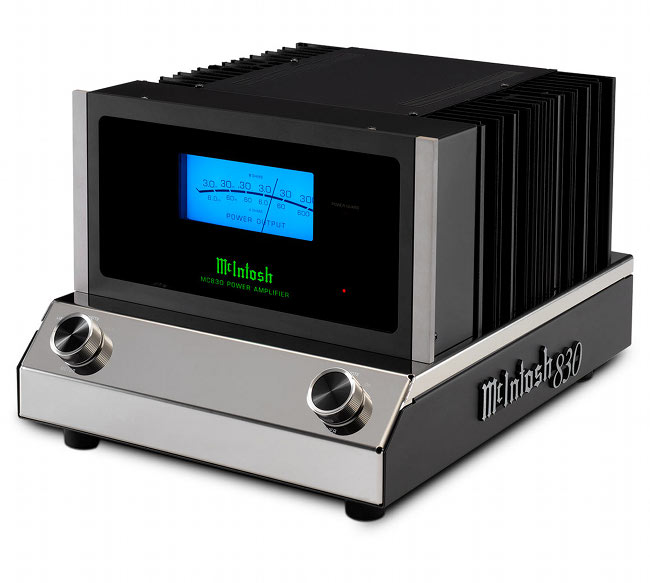 Source: Press Release, Last Accessed: 2020/09/21
Following in the footsteps of their immensely popular and retro styled MA252 and MA352 integrated amplifiers, which took design cues from their timeless MC275 vacuum tube amplifier, McIntosh introduced two new models with similar styling: the MC830 solid state amplifier and C8 vacuum tube preamplifier.
The MC830 is a 1-channel solid state amplifier that has a similar footprint to the MA252 integrated amplifier. The MC830 is a direct coupled output design that is rated at 300 Watts into 8 Ohms or 480 Watts into 4 Ohms. A fast-responding Dual Scale Watt meter gives an accurate readout of power output for both speaker impedance specs. McIntosh Monogrammed Heatsinks add visual appeal and will keep the MC830 running cool for optimum performance. Both a balanced and unbalanced input are included for connecting it to the rest of your music system.
The C8 vacuum tube preamplifier is also similarly sized to the MA252 integrated amplifier, and is powered by four 12AX7a vacuum tubes housed inside stylish protective cages. The C8 comes with 1 balanced and 2 unbalanced analog inputs, plus one MC and one MM phono inputs with adjustable loading to play vinyl collections. All inputs can be given user-friendly names to simplify user control. Bass and treble tone controls help fine tune your music to your personal preferences. For outputs, it has 1 balanced and 2 unbalanced; 1 of the unbalanced outputs can be configured as a subwoofer output for use with a powered subwoofer to further enhance low frequencies.
C8 is digital-audio-ready as McIntosh's DA2 Digital Audio Module can be installed in it (adding the DA2 is an optional dealer installed upgrade). The DA2 has 7 digital inputs: 2 coax, 2 optical, 1 USB, 1 MCT (for use with McIntosh's line of SACD/CD Transports), and 1 audio-only HDMI Audio Return Channel (ARC) connection.
For personal listening, the C8 comes with McIntosh's High Drive headphone amplifier, while Home Theater Pass Through allows the C8 to be seamlessly integrated into your home theater system. Input selection, bass, treble, tone bypass, balance and input offset levels can be adjusted using the front panel knobs or the included remote control.
For more information: https://www.mcintoshlabs.com/
---