Mission LX MkII: luxurious sound at entry-level prices.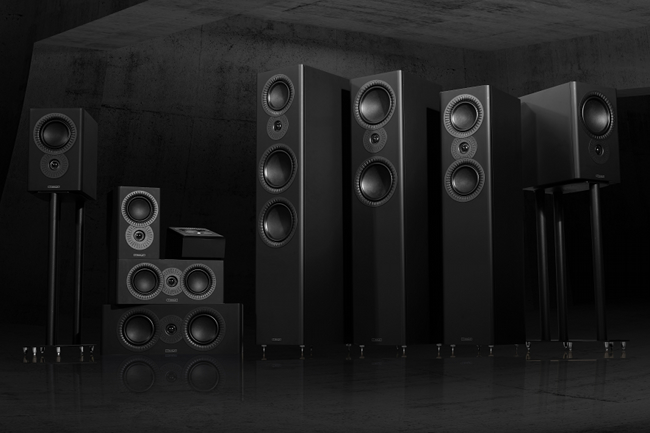 Source: Press Release, Last Accessed: 2020/08/30
Mission upgraded their award-winning LX loudspeaker range with a host of improvements, including technology trickled down from the QX Series.
The new line-up utilizes design elements evolved from the upmarket QX Series to build on the award-winning formula of the first-generation LX speakers, sporting a range of improvements that span the drive units, crossover and cabinet. Whereas the original LX Series consisted of six models – two standmount speakers, three floorstanders and a center speaker for home cinema systems – the LX MkII range comprises nine. There is an additional standmount model, a choice of two center speakers instead of one, and a dedicated surround speaker that can be wall mounted or sited on top of the floorstanding models as an upward-firing effects speaker.
According to the press release, for the LX MkII Series, Mission has meticulously designed a tweeter with a neodymium magnet, selected for maximum magnetic force in a small space, and a 25mm microfiber dome, chosen for its light weight and consistency in manufacture. It delivers sweetly incisive high frequencies – crisp and detailed with impressive transient attack.
The LX MkII Series features a new version of Mission's DiaDrive bass/midrange drive unit, where the usual cone and dust cap arrangement is replaced by a seamless curvilinear diaphragm. This is directly driven by a secondary sub-cone connected to the voice coil, improving the efficiency of drive and providing superior control of the smoothly dished diaphragm. The diaphragm itself is fashioned from an advanced dual-layer fiber formulation, while a high-strength ferrite magnet ensures that the magnetic field is directed precisely within the area of voice coil excursion.
One of the critical areas highlighted by the development of Mission's upmarket QX speakers is the use of "comb-tooth" serrations in the driver surrounds to help scatter interfering reflections from localized surfaces to the bass/mid cones. The LX MkII Series incorporates similar serrations in the main driver surrounds, as well as indentations around the tweeter.
The LX MkII Series uses a 4th order (24dB per octave acoustic) Linkwitz-Riley network, developed with advanced computer modeling and many hours of listening tests, to knit the drivers together seamlessly. The three standmount models in the range feature DiaDrive units positioned according to Mission's Inverted Driver Geometry (IDG), with the bass/mid driver sited above the treble unit rather than below to aid time-alignment – a Mission trademark since the 1980s. The two-way LX-4 MkII and LX-5 MkII floorstanders extend IDG to a full D'Appolito array, siting the treble unit between a pair of DiaDrive bass/mid units – one above, one below. The largest model in the range, the LX-6 MkII, is a three-way design, with a dedicated midrange driver positioned above the tweeter, and a pair of bass drivers stationed below.
With the help of 3D Computer Aided Design, finite element analysis and laser interferometry, coupled with a great deal of experience, a budget cabinet was designed that delivers better rigidity with lower radiated noise than many would believe achievable at such low material cost.
The Mission LX MkII Series are available in a choice of soft-touch matte black or white, or walnut for those who prefer a wood-style finish.
For more information: https://www.mission.co.uk/
---