Musical Fidelity's new M8xi high powered integrated amplifier.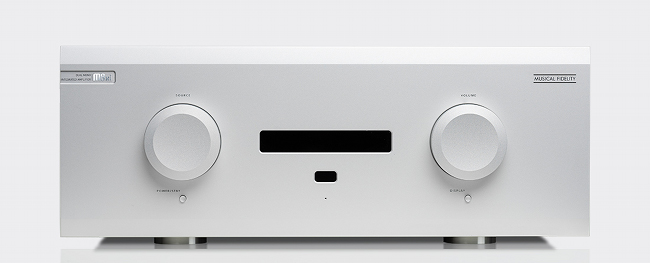 Source: Press Release, Last Accessed: 2020/02/20
Teased at various international shows during 2019, the latest super integrated amplifier in Musical Fidelity's long and illustrious history of high-powered designs (which started with the A1000 back in 1990) aspires to be a high-end marvel that combines masses of power with true audiophile sonics and ultimate convenience.
In essence, the M8xi is a separate DAC, preamplifier and two monoblock power amplifiers housed within one large chassis. The entire signal path employs a low-feedback configuration, as with previous Musical Fidelity designs, but the bridged output stage efficiency has been increased, yielding about 10% more power while maintaining manageable voltages on the supply rails; and the whole driver stage has been designed to operate in pure Class A. The most striking aspect of the M8xi design is the high power output, generously rated at 550W into 8 Ohm (870W into 4 Ohm and Peak 1.6kW into 2 Ohm loads) to drive almost any speaker available on the commercial market today, the company says. The output devices themselves are high-stability, thermally compensated Darlington pairs, capable of delivering high output largely thanks to the generously specified transformers, while the power amplifier is laid out in true dual-mono with dedicated power supplies for each channel for absolute signal integrity.
The preamplifier of the M8xi is, largely, operating in Class A and running off its own independent power supply. Featuring both XLR and RCA inputs, it employs low-noise op-amps in all sections for maximum signal integrity. The laser-trimmed volume control has a precision-matched position attenuator with maximum 0.2dB mismatch at lower volume levels and as is common among other Musical Fidelity amplifiers, the M8xi also boasts a switchable Home Theater (HT) input. The device also features XLR and RCA balanced outputs, including variable ones for connecting to additional external amplifiers, as well as an RCA fixed stereo output for analogue recording or alternative applications, such as connecting an external headphone amplifier.
The M8xi also boasts a five input DAC, powered from its own dedicated power supply. Based around the Texas Instruments PCM5242 low-distortion and low-noise DAC chip, the DAC has two coaxial (S/PDIF), two optical (S/PDIF) and one asynchronous USB Type-B input. The coaxial and the USB inputs are capable of supporting hi-res audio streams up-to 24-bit/192kHz, and the optical input is capable of supporting up-to 24-bit/96kHz. All data streams are up-sampled and re-clocked to reduce jitter and remove unwanted artifacts.
For more information: https://www.musicalfidelity.com/
---