Parasound debuts flagship Halo JC 1+ 450W monoblock power amplifier.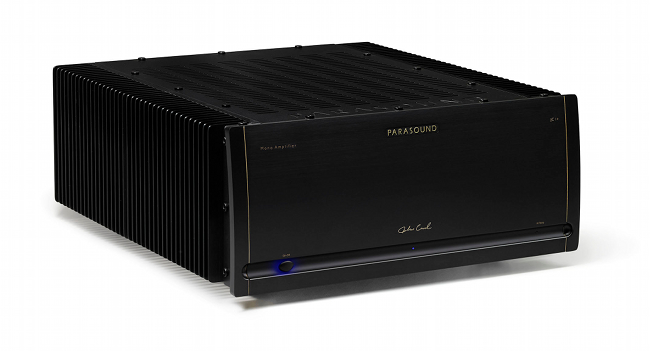 Source: Press Release, Last Accessed: 2020/01/16
For nearly two decades, the Parasound Halo JC 1 monoblock power amplifier, designed by the legendary John Curl, was Parasound's flagship product, and the aspirational amplifier for thousands of audiophiles world-wide. Now, Curl's innovations make the new Parasound Halo JC 1+ the finest amplifier in Parasound's 38 year history.
According to the press release, a five-year effort by Curl and Parasound, and sweeping circuit improvements, have resulted in the Parasound Halo JC 1+ monoblock amplifier. With 450 watts into 8 ohms, 850 watts into 4 ohms, 1300 watts into 2 ohms, and a peak current of 180 amperes, the JC 1+ excels even with speakers that can dip to 1 ohm. It operates in pure Class A up to 25 Watts and Class AB to full power, reflecting Curl's attention to detail and sound quality.
At near 40kg, the new JC 1+ is 30 percent heavier than the JC 1. Its new power transformer has 20 percent higher capacity, while additional Nichicon power-supply filter capacitors increase from 132,000uF to 198,000uF. The new amp boasts 24 Sanken 15A/230V output transistors compared to 18 — a 33 percent peak current increase, for music that truly soars, the company says.
The Halo JC 1+ is remarkably quiet and is the first commercially built product to employ active high-frequency noise filtering with Bybee Music Rails modules, eliminating input stage noise. Curl's newly-designed driver stage employs a cascode circuit with greater open-loop bandwidth and increased linearity. In another first for the JC 1+, the input and driver stages reside on FR408 printed circuit board material. Until now FR408 was used in super-computer and aerospace applications. The input-stage power supply is totally independent from the main power supply. Its R-core transformer isolates sensitive circuitry from high-frequency power line noise. This input stage power supply employs quiet high speed/soft recovery diodes and 22,400uF filter capacitance, to deliver ±112V DC rail voltage. Premium Wilson Audio REL capacitors use a proprietary design, which resists micro vibrations that typically degrade the sound quality of other caps, the company says.
Parasound's Halo JC 1+ has a fast-start bias circuit that enables it to sound its best within minutes after turn-on. A bias level selector switch enables cooler operation, with virtually no performance compromise. To optimize performance with high gain preamps and high sensitivity speakers, a two-position toggle switch selects 23dB or 29dB gain.
Premium Neutrik balanced locking XLR connectors, and Vampire unbalanced RCA output connectors facilitate bi-amping. Rugged Parasound-designed CHK Infinium speaker terminals accept spade lugs up to 16mm wide, banana plugs, and 5-AWG bare speaker wire.
For more information: https://www.parasound.com/
---