Pro-Ject's The Beatles Singles Turntable.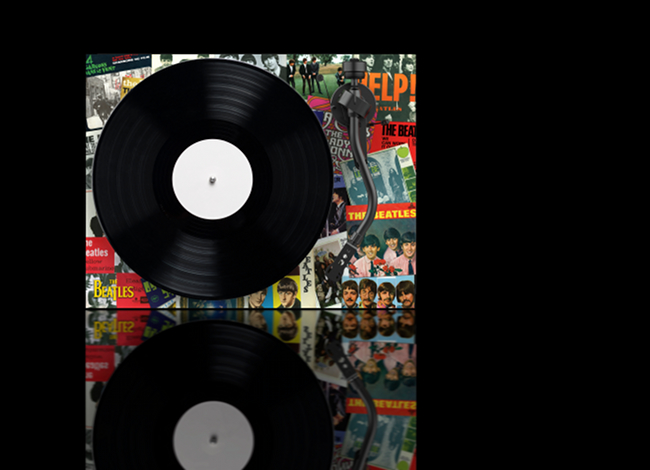 Source: Press Release, Last Accessed: 2019/11/06
To celebrate the release of "The Beatles Singles Collection" box set of vinyl singles, Pro-Ject Audio released a very special addition to their Artist Collection turntables: Simply referred to as the "Singles Turntable", the deck itself will be finished with a collage of all original Beatles single sleeves, and it will include several features unique to this edition.
Based on the award winning Debut III model, the Singles Turntable features some interesting elements and upgrades, including electronic speed change (33/45/78), an 8,6-inch, Aluminum, S-shaped tonearm with two SME headshells, each with its own pre-alligned cartridge to easily change and switch between mono- and stereo-record playback, two new Pro-Ject designed, Ortofon manufactured cartridges, a Pick it Mono for mono-record playback and an Ortofon 2M Red for stereo-record playback and a heavy acrylic platter.
The Beatles singles Collection presents 46 tracks on 23 180-gram 7-inch vinyl singles in faithfully reproduced international picture sleeves, accompanied by a 40-page booklet with photos, ephemera, and detailed essays by Beatles historian Kevin Howlett.
From 1962 to 1970, The Beatles released 22 UK singles; of those 44 A and B-side tracks, 29 were not included on the group's British albums at that time. These singles, plus an exclusive new double A-side single for the mid-1990s-issued tracks "Free As A Bird" and "Real Love," are newly cut for vinyl from their original mono and stereo master tapes by Sean Magee at Abbey Road Studios for a new limited edition boxed set.
The collectible set released worldwide on November 22 by Apple Corps Ltd./Capitol/UMe. It offers a fascinating view of the creative trajectory of The Beatles' John Lennon, Paul McCartney, George Harrison, and Ringo Starr across their relatively brief recording tenure together.
The Beatles Singles Turntable is available for MSRP €699,- (incl. VAT) from your local Pro-Ject distributor or Pro-ject dealers. In the USA, it is exclusively available for MSRP $799,- on the official Beatles web store and from Pro-Ject USA.
For more information: https://www.project-audio.com/
---