Hallmark Recordings' Richard Strauss, featuring the Vienna Philharmonic & Herbert von Karajan, re-issued by Pro-Ject Audio Systems.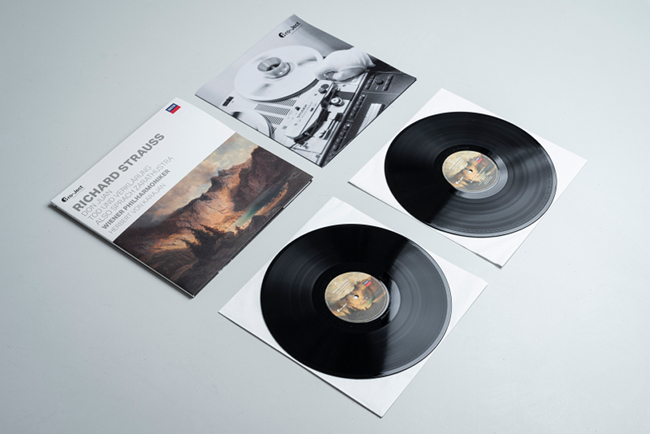 Source: Press Release, Last Accessed: 2020/03/02
The new vinyl, "Analog Only", edition of the Vienna Philharmonic from Pro-Ject Audio Systems, is being transferred directly from the original tapes of Deutsche Grammophon and Decca, with no intermediate digital processing.
Heinz Lichtenegger, owner and mastermind of Pro- Ject Audio Systems is one of the most vocal international proponents of the analogue audio world. Out of his admiration for the Vienna Philharmonic, a plan emerged to re-release 12 legendary recordings of the world-famous orchestra from the analogue era.
Georg Burdicek, widely known sound engineer and recording guru of the Tonzauber studio, was commissioned to carry out the important task of tape copying and mastering. The astonishing thing is the high quality of the original tapes, which are still in excellent condition even after 60 years. Burdicek processed the original master tapes for perfect 1:1 transfers. According to Burdicek, the sound is astonishing because of its dynamic range, which is far greater than indicated by the measured values: True dynamic range of 35 – 40 dB and frequencies up to 15 kHz can be achieved. Among other things, this can also be attributed to Burdicek's solid-tube mixing console and the analogue equalizer.
A vinyl series like this is no mass market product, and is manufactured with a high degree of care. Georg Burdicek has no doubt that the LPs of the Vienna Philharmonic he is helping produce for Pro-Ject Audio, easily rival the original source tapes, and even outperform them when it comes to dynamic range and quiet playback.
The Vienna Philharmonic & Herbert von Karajan: Richard Strauss - Don Juan, Tod und Verklarung, Also Sprach Zarathustra, are already available. MSRP 39,90 € (incl. VAT).
For more information: https://www.project-audio.com/
---