Rotel celebrates company's collaboration with Ken Ishiwata by announcing two Tribute Versions.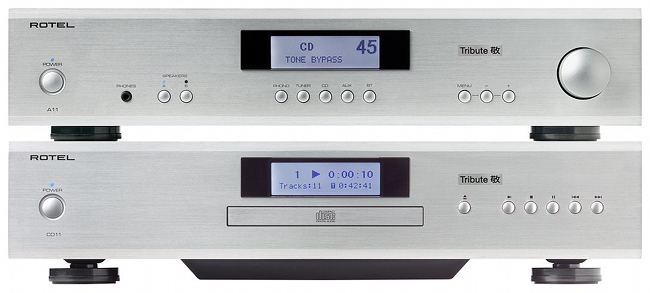 Source: Press Release, Last Accessed: 2020/08/28
Rotel has revealed the launch of two special editions of the company's hugely popular A11 Integrated Amplifier and CD11 CD Player models, with each named as Tribute version in celebration of the company's partnership with the late audio legend Ken Ishiwata. Ken was widely admired in the Hi-Fi industry for his unique ability to identify the most worthy, ideal products for modification and then define the musical references plus the suggested component changes to the engineers, to take the products' performance to new levels – often with only a modest increase in price.
For the Tribute versions, Rotel decided to focus on the A11 and CD11 - products that Ken was already familiar with and that had already been successful with multiple award wins. The team believed that the 2x50W Class AB A11 Integrated Amplifier and the CD11 CD Player represented the perfect base for taking products that were already excellent and turning them into something very special. Ken made his initial appraisal and agreed a new specification with the Rotel engineering team. Initial prototypes were then produced by Ken and his own long-term acoustic engineering contacts, with the final spec agreed with the team at Rotel.
For the A11 amplifier, specially selected improved components were chosen to offer higher performance throughout the signal path. In the amplifier stage, all 10 capacitors and two resistors in the signal path were changed. For the preamp, six capacitors were upgraded, representing over 50% of the components in the signal path. All six capacitors in the volume stage were also upgraded. Custom damping materials were added to the A11's mechanical chassis to reduce ringing and further isolate/insulate and dampen any vibrations within the product.
For the CD11 CD player eight capacitor changes and one resistor change were made in the DAC stage while in the power supply all nine capacitors were changed with improved components. Once again, a great deal of thought was given to the damping of internal vibrations with custom damping material added to the top cover to eliminate vibration and ringing, while further changes were made to the mechanical and electrical grounding of the CD player.
Having agreed the changes and having overseen the creation of the first prototypes, Ken very sadly passed away in November 2019, before the project could be completed. However, some of Ken's long-term contacts and partners from the industry – including his personal friend Karl-Heinz Fink – volunteered to continue his work with the Rotel team in order to complete the product and to fulfill Ken's original vision.
For more information: http://www.rotel.com/
---