Lumina: Sonus Faber launched new line of high-end speakers.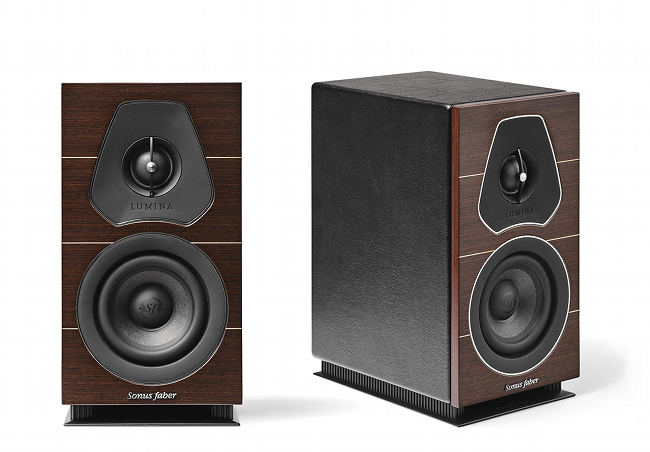 Source: Press Release, Last Accessed: 2020/09/08
Sonus Faber recently announced the Lumina collection, a new line conceived on the notion that now, more than ever, it is important to savor time for ourselves and celebrate life's precious moments. "Lumina" in Latin means "Light", but also a source of energy and life.
The cabinet of the collection is perfectly squared- the Sonus Faber design department executed this minimal design to emphasize the quality of materials used. A careful study of proportions was carried out to guarantee accurate volumes for sound performance and compact dimension for set-up, the company says.
Lumina's multi-layer wood of the front baffle and the real wood veneer is available in iconic premium finishes including walnut and wenge, both in matte finish with maple inlays, with a third option available in piano black. All other surfaces of the cabinet are hand covered in Sonus Faber's iconic black leather.
The Lumina collection features three models: Lumina I, an extremely compact bookshelf speaker, that looks great as an individual stereo pair or as surround speaker in a cinema set up; Lumina III is an elegant floor-standing model that ensures powerful, distortion-free reproduction of large presentations; Lumina Center I is a center channel speaker that ensures high speech intelligibility for games and movies. According to the press release, this essential combination of models is a perfectly balanced solution for traditional stereo system enthusiasts as much as for those looking to experience a multichannel home theater system.
The reflex ports give additional versatility for the models' range, placed on the front side of the bookshelf and center channel speakers and on the base, down firing, on the floor stander. Thanks to this solution, Lumina speakers are significantly less sensitive to their placement, allowing sound excellence even when placed close to a back wall or within a bookshelf setting.
Completing the range there are the Gravis I and II subwoofer models, to achieve maximum performance of one's home entertainment system, offering deep low-frequency effects (LFE), and a fuller listening experience.
For more information: https://www.sonusfaber.com/
---