Taga Harmony unveiled the v.3 of their HTA-700B hybrid integrated amplifier.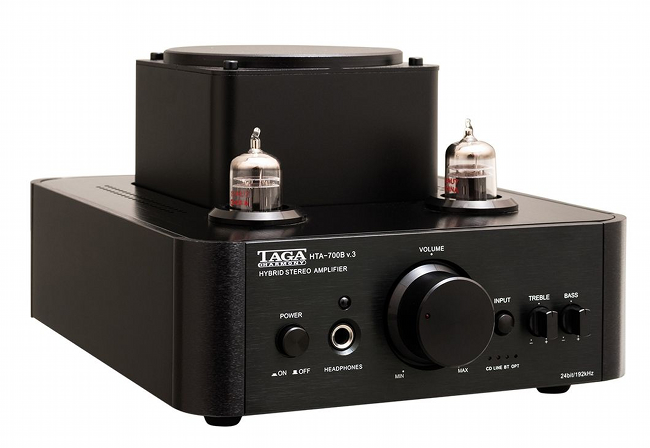 Source: Corporate website, Last Accessed: 2020/04/07
HTA-700B v.3 is the latest edition of Taga's highly-rewarded and extremely popular mid-size hybrid integrated amplifier, a design featuring a pair of double triodes in the preamplifier part and a pair of monolithic power stages in the output. To be more precise, the amplifier utilizes two 12AU7 Shuguang vacuum tubes in the preamp section serving as a buffer amplifier and a pair of TDA7296 DMOS monolithic class AB integrated circuits in the output offering 2x26W/8 Ohm and 2x45W/4 Ohm of power. The HTA-700B v.3 combines the best of both worlds - soft and analog-like sound character provided by tubes and, adding to that, high dynamics and power of transistors, the company says.
According to the details published, the new version features a revised 150W toroidal transformer to provide large amounts of clean power, high voltage stability and very low AC ripple current, high grade capacitors (2x 3300uF/50V) and audiophile-grade Wima capacitors which used on the input to and output from the tube stage, as well as for the tone control circuit.
An audiophile-grade Japanese ALPS volume potentiometer provides minimal noises and channel crosstalk, has excellent operational feel and limits errors between the two channels. Over-sized aluminum heat sink system, independent for each channel dissipate the internal heat and allows for long term high power playback with limited distortion, Taga says.
Connectivity includes two analog sources and a digital optical input with a built-in 24-bit/192kHz DAC (based on SA9123 and AK4430 chips). There is, also, Bluetooth connectivity and a headphone amplifier. Output includes a pre-out for an optional external power amplifier or powered subwoofer and loudspeakers and gold-plated loudspeaker terminals.
For more information: https://www.tagaharmony.com/
---