Wharfedale's Elysian loudspeakers aspire to turn home into sonic heaven.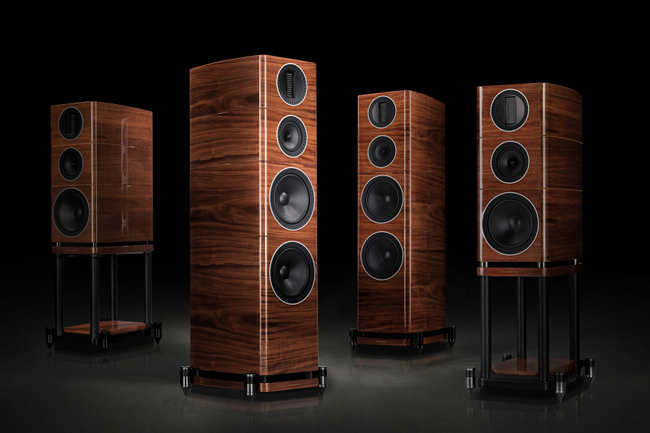 Source: Press Release, Last Accessed: 2020/02/28
In Greek mythology, the Elysian Fields are a heavenly place where the heroic and the virtuous are rewarded in the afterlife. Elysian, as an adjective, means blissful – a fitting name for Wharfedale's new flagship loudspeakers, conceived to deliver blissful sonic reward to music lovers seeking heavenly respite from the rigors of daily life.
Two Elysian loudspeakers have been created; a large standmount model called Elysian 2 (£4,500 per pair) and a floorstanding speaker named Elysian 4 (£6,500 per pair). Both speakers were developed concurrently with the EVO4 Series, which launched towards the end of 2019 and sits immediately below Elysian in Wharfedale's new hierarchy.
Elysian and EVO4 share many design elements, having benefited from the same R&D process as part of a unified project. The core speakers in both ranges are three-way designs, sporting an unusual and sophisticated driver array including an Air Motion Transformer (AMT) high- frequency unit. But with Elysian, each component part is engineered to the very highest standard. The drivers, the crossover, the cabinet – every aspect has been developed in harmony and without cost constraint to push the project to its performance limit, Wharfedale says.
The development of the AMT unit was a key part of the Elysian/EVO4 project. The Elysian AMT is larger and of higher specification than the one used in the EVO4 Series, featuring an ultra- lightweight diaphragm material called PET and an acoustically damped rear chamber, delivering even more clear and sweetly extended high frequencies. For the midrange, the company settled on a proprietary woven glass fiber matrix, formed into a 150mm cone which, in turn, is matched with a glass fiber matrix cone for the bass unit, in this case terminated with a highly flexible rubber surround and driven by a specially developed low-distortion motor system. The 220mm bass units – one in the Elysian 2, two in the Elysian 4 – are capable of reaching down below 28Hz in-room, revealing the full body and impact of percussion, stringed and wind instruments, the company stated.
The bass units are loaded by an advanced version of Wharfedale's signature slot-loaded port. Christened SLPP (Slot-Loaded Profiled Port), it is specially profiled to equalize the high internal pressure to the low pressure in the room in an effort to reduce the distortion that is typical of bass reflex systems and to increase the port's efficiency. In addition, because the air is dispersed uniformly in the room, the speakers are less fussy about positioning.
The Elysian speaker cabinets feature handcrafted veneers, are enhanced by true piano finish lacquers and hand- polished to six levels of depth to give a truly beautiful result. Beneath the veneer is a sandwich of woods of differing density, designed to reduce panel resonance to below audibility. Finish options are walnut, black or white.
For more information: https://www.wharfedale.co.uk/
---