Wilson's SabrinaX loudspeaker.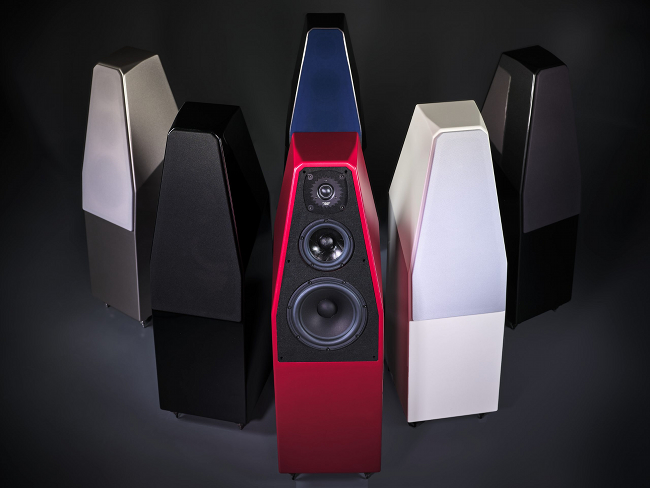 Source: Press Release, Last Accessed: 2020/09/24
The SabrinaX is a ground-up rethinking of the Sabrina, the universally loved, small, floorstanding loudspeaker from Wilson Audio. Like the original Sabrina, the new X-version is a rare combination of traditional Wilson hallmark attributes and a sense of inherent musical "rightness," the company says.
The original Sabrina utilized X-Material only in its baffle and lower spike plate. In its third iteration, X-Material remains unbeatable for its rigidity, inertness, intrinsic damping, and extreme hardness. Now, the SabrinaX's outer enclosure is constructed entirely from X-Material. The SabrinaX cabinet comes that much closer to the near-silent ideal Wilson has relentlessly pursued for decades, the company stated. SabrinaX's new bracing system augments all the above qualities by further reducing cabinet- born resonances.
The tweeter chosen for SabrinaX is the Convergent Synergy MK5, which was developed initially for the limited-edition WAMM Master Chronosonic. Wilson says that the tweeter combines ultra-low distortion, exquisite micro and macro contrast, and ultra-high resolution, all of which are accompanied by a sense of ease, accessibility, and supreme musicality.
The 5.75-inch midrange driver is remarkably smooth throughout its bandwidth (which extends flat to 2 kHz, facilitating the elevated crossover point to the tweeter). The crossover points allow the driver to perform optimally within the "sweet spot" of its range. SabrinaX also features the new 8-inch woofer designed and developed for the Sasha DAW's bass module. This state-of- he-art driver is installed into an all-new, exceptionally inert bass cabinet, which provides the perfect platform for the driver's intrinsically excellent dynamic resolution and transient performance.
The port is machined from a solid billet of 6061-T6 aluminum, and, for the SabrinaX, a new geometry effectively reduces the already low port noise. The new model utilizes the same Wilson designed and manufactured binding post as the XVX. It is easier to tighten by hand, and, also, features a banana-plug option.
Wilson designed a custom version of their AudioCapX explicitly for SabrinaX's crossover. The new capacitor technology significantly lowers the noise floor, allowing the listener to hear more detail and resolution.
For more information: https://www.wilsonaudio.com/
---