Yamaha consolidated their high-end effort: The 5000 Series.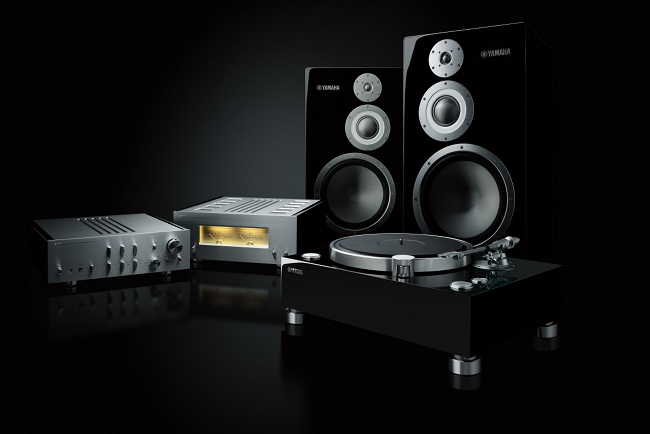 Source: Press Release, Last Accessed: 2019/10/30
Yamaha made their biggest statement in the Hi-Fi market since it coined the term "Hi-Fi" 65 years ago, with the release of the Hi-Fi Player. The company continues its legacy in the premium category with the 5000 Series, a new standard of components designed for the most discerning and passionate audiophiles. The 5000 Series includes the NS-5000 loudspeakers, the C-5000 preamplifier, the M-5000 power amplifier and the GT-5000 turntable, but these devices are more than just high-quality, stand-alone products. They are specifically engineered to work as a system, delivering perfectly balanced audio transmissions from cartridge to speaker output for premier performance, the company says.
According to the press release, the NS-5000 loudspeakers incorporate tweeter, midrange and woofer diaphragms made of Zylon, a high-strength and lightweight synthetic fiber providing exceptional acoustic velocity and the ability to reproduce the most delicate details of audio without the sharp resonance peak inherent of harder materials. A patented acoustic absorber eliminates sound-absorbing material to revive the original presence of the music, and patented resonance suppression chambers suppress unwanted resonance in the mid and high ranges. The speakers' enclosure construction of white Japanese birch and a piano black finish, the same used on Yamaha grand pianos, combine to deliver superior sonic quality.
The C-5000 preamplifier features fully balanced discrete circuits, dual toroidal transformers for the right and left channels and a patented design that floats the phono EQ, input amp and line amp stages – removing the influence of ground noise from the signal. Connectivity options include six RCA (including phono) and four XLR inputs, three RCA and one XLR output, two trigger outputs and three RCA outputs.
The M-5000 power amplifier features a floating power supply, removing undesirable impacts of minute voltage fluctuations or ground noise. The M-5000 employs a mechanical ground concept, whereby the power transformer, block capacitors and heat sink are fixed mechanically to the frame to eliminate vibration influence. Inputs include one RCA, one XLR and one trigger. Outputs include speaker and one trigger. The new GT-5000 turntable draws inspiration and design characteristics from the acclaimed Yamaha GT (Gigantic and Tremendous) series. It is a belt-drive system based on a 24-pole, 2-phase, synchronous motor, with quartz timing, featuring a short, straight tonearm made of carbon fiber and copper-plated aluminum. The turntable features a heavy 5kg outer platter, a 2kg inner platter and custom heavy-duty feet to increase stability. The heavy wooden cabinet has the same piano black finish as Yamaha grand pianos for a premium and elegant aesthetic.
For more information: Yamaha Hi-Fi | Europe, Yamaha Hi-Fi | USA
---