Omnia: An all encompassing audio solution from Audiolab.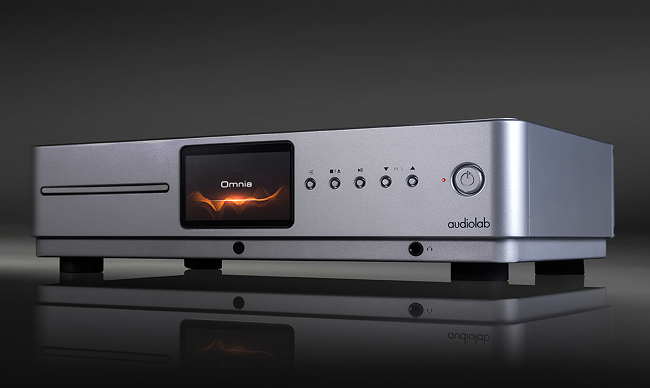 Source: Corporate website, Last Accessed: 2021/11/24
Blurring the lines that generally differentiate Hi-Fi and lifestyle, Omnia brings all of the pedigree that helps make Audiolab electronics the connoisseur's choice. Yet, indulgence in design, material aesthetics, and usability mean it has all of the functionality to make it a sleek, convenient and easy-to-use center-piece, for an uncompromising home audio system.
To sum it up, the Audiolab Omnia is a CD player, integrated amplifier, wireless streaming player, DAC, headphone amplifier, and preamp – in one single unit.
Omnia's CD drive builds on the class-leading 6000CDT CD transport with a read-ahead digital buffer to reduce disc-reading failures. The preamp circuitry is kept as simple as possible, using high-quality components to maintain signal purity and with line input signals passing to a precision analogue volume stage. A dedicated MM phono input is included, featuring a high-quality, low-noise, phono stage with precise RIAA equalization.
For network audio playback, Omnia is equipped with an Ethernet port, and offers Bluetooth connectivity with high-quality, low latency, aptX standard with Wi-Fi networking powered by DTS Play-Fi. The USB DAC section is based upon the new ESS9038 Q2M Sabre 32 Reference DAC, utilizing ESS Technology's 32-bit HypersStream II architecture and Time Domain Jitter Eliminator, offering full decoding of MQA (Master Quality Authenticated).
Omnia makes use of a color IPS LCD display, offering a higher clarity of color and lower power consumption than TFT displays. Via its display, Omnia offers a simplified general user interface and a graphical integration with any music source and playback formats. It also uses a brand new protocol for a real-time VU meter display, adding a touch of Hi-Fi finesse to the very functional, equally good-looking, display interface.
The device incorporates a dedicated headphone amp with current-feedback circuitry. Its gain bandwidth and high slew rate ensure a dynamic, detailed and engaging performance with all manner of headphone types, the company says.
The discrete Class AB power amp stage delivers 50W per channel into 8 ohms, with a maximum current delivery of 9A. According to the details published, the output stage of the discrete power amp circuits uses a CFP (Complementary Feedback Pair) topology and a substantial 200VA toroidal transformer, followed by 4x15,000uF reservoir capacity (60,000uF in total).
For more information: https://www.audiolab.co.uk/