Embrace – Hybrid "Hugging" amplifier from Audiozen.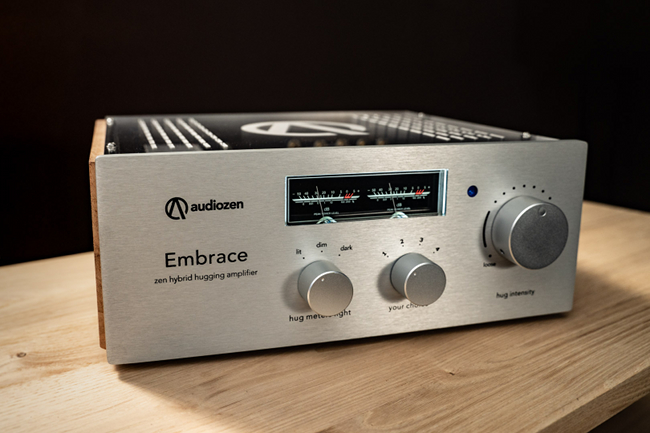 Source: Corporate website, Last Accessed: 2021/04/06
After six years, Audiozen's first integrated amplifier, the Alchemy, is retired and the Embrace, a new hybrid design, takes its place. Alchemy, made Audiozen's approach to music known in Europe and overseas, it was highly appreciated by the public and the specialized press, and had already been internally updated to improve its driving and control capabilities. The vision of a new approach is the fusion of evolution and experience, where the designer and his team can lead a path free from constraints towards a higher sonic and aesthetic goal, hence the Embrace, the company says.
Two ECC88 NOS tubes amplify the audio signal that passes through fine ClarityCap ESA series polypropylene capacitors to reach a class AB transistor power stage that enriches with its current the natural and enveloping tone of the tubes, yielding up to 100/175W per channel in 8/4 Ohm loads. This hybrid configuration is powered by a separate power supply, firmly connected to the main unit via a cable of adequate cross-section and equipped with an oversized connector capable of up to 30 amps.
The separate power supply section houses three toroidal transformers: the 50 VA pair is dedicated to the preamplifier section, the massive 300 VA unit is connected to the power stage. The power switch is located on the front panel: in the stand-by position only the Embrace's preamplifier stage is switched on, to heat the tubes before energy is supplied to the power stage.
Embrace features 8 mm thick Asian doussie solid wood sides, solid machined aluminum knobs, 10 mm thick aluminum front panel, sturdy rear binding posts and high quality RCA connectors, and a remote control for volume management.
For more information: https://www.audiozenaudio.com/
---