BAT's VK-3500 Hybrid Integrated amp promises convenience, no compromise.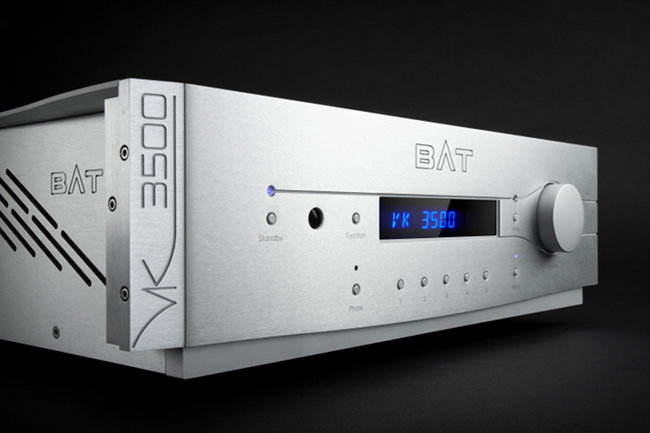 Source: Press Release, Last Accessed: 2021/05/26
Celebrating over 25 years of cutting-edge audio design, the VK-3500 marries a "SuperTube Unistage" preamplifier with a solid-state power section generating a robust 150 watts per channel into 8-ohm loads, doubling into 4-ohm loads.
Exemplifying Balanced Audio Technology's purist "direct wire with gain" approach to circuit design, and as per the reference 6H30 SuperTube Unistage used in the flagship REX 3 preamplifier, the signal is transmitted through only one gain stage with zero feedback. The VK-3500's revised preamp topology uses 2nd generation oil capacitors. Non-oil capacitors can initially make music sound more exciting, but the excitation comes from ringing artifacts, which, for instance, can make a grand piano sound overly sharp. Oil provides proper damping to the capacitor so that the signal passing through it does not ring, delivering more organic, natural sounding music reproduction, the company says.
The VK-3500's output stage employs a zero-feedback symmetrical bipolar design that perfectly complements the 6H30 tube-based preamplifier by providing high current capability as well as wide bandwidth for the ultimate in transparency and high-end extension.
From the machined-aluminum remote control, a programmable user interface provides for one-touch source/polarity switching and volume control. The integrated phono module, designed by Victor Khomenko himself, accommodates both moving-magnet and low-output moving-coil cartridges. Inputs include two balanced (XLR) and three single-ended (RCA), while RCA and high-performance balanced vacuum-tube preamplifier outputs will feed an amplifier in a second room. The VK-3500 features the all-aluminum design pioneered by BAT's flagship REX 3 systems while its circuitry and build mirror the uncompromised high quality found across BAT's flagship product line-up.
VK-3500 is already available in silver and black finish.
For more information: https://www.balanced.com/
---