Braun Marks 100 Years of Good Design with Virgil Abloh.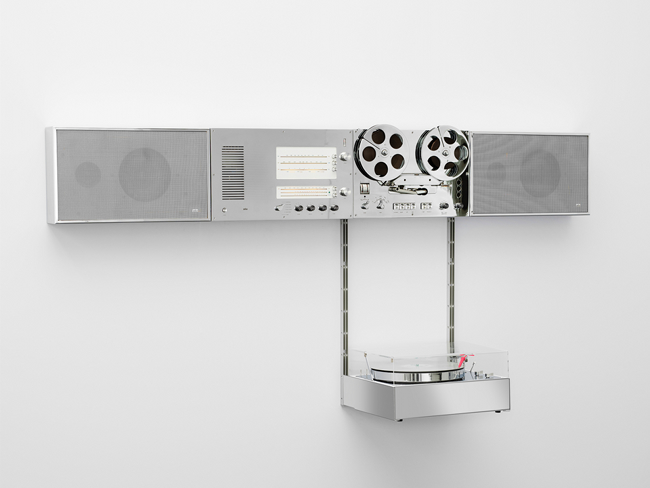 Source: Press Release, Last Accessed: 2021/03/16
Braun, celebrating its 100 years in 2021, has entered a unique collaboration with the Chief Creative Officer and Founder of Off-White and Artistic Director of Louis Vuitton Menswear, Virgil Abloh and unveiled their "functional art" piece with a film on the company's website. A remix track by Virgil Abloh is also available on Abloh's Soundcloud to bring the Braun ethos of good design to life: "it's timeless and meant to be appreciated and enjoyed over time."
The collaboration with Virgil Abloh sees the designer delve into the Braun archives to update and co-curate the 1965 "Wandanlage" Hi-Fi audio wall unit with Braun's design team into a functional art piece. The metallic finish of the 2021 version is a visual manifestation of the parallels between Braun's polished chrome design aesthetic – such as the 1960 SM3 shaver and 1961 T1 toaster - and the high shine of Virgil Abloh's cultural and musical references of the past 100 years. These range from the brass and silver instruments of Mamie Smith's 1930s blues band to the customized polished slabs on cars made famous by hip hop stars in the 1980s. By taking a "less but better" approach to the design process, Virgil Abloh and Braun ensure that the original Hi-Fi audio remains the hero of the collaboration – and the technology still functions today as it did back in 1965. The result is a custom build art piece where design bridges the gap between form and function, with materials that ensure it lasts for the next 100 years.
The short film follows Abloh at Farnsworth House – designed and constructed by Ludwig Mies van der Rohe – as he explains his design process behind the re-imagined Wandanlage. In a nod to his practice as a DJ, Virgil Abloh has also curated a bespoke remix composition titled "Internationalism" so design purists and broader audiences can experience the musical inspiration behind the collaboration.
The eclectic track embodies a genre-less approach to music, something that Virgil has spoken about before in reference to his musical taste. To watch the film and find out more information on the Virgil Abloh and Braun collaboration to mark Braun's 100 years of good design visit Braun's website. The music track Internationalism is available here.
For more information: https://www.braun.com/
---