Cambridge Audio launched a new flagship DacMagic 200M.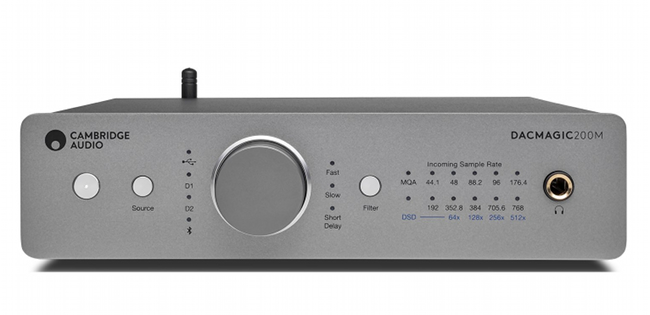 Source: Press Release, Last Accessed: 2021/01/25
The DacMagic 200M is Cambridge's new top-of-the-range DAC and headphone amplifier, featuring integrated Bluetooth, a more powerful headphone output and superior DAC technology to deliver a thrilling performance that's bigger than the box it comes in.
The DacMagic 200M includes dual ESS Sabre DACs that can handle PCM and DSD signal inputs at a higher resolution than before – up to 32-bit/768kHz (PCM) and DSD512 natively. Switchable digital filters offer greater flexibility and control over the listening experience.
The new device has a high-quality headphone amplifier with a 6.3mm output, enhancing your listening experience through headphones. As well as using traditional class AB amplification, the output impedance of the DacMagic 200M's 6.3mm headphone socket has been reduced. This delivers more power, less distortion, less noise and tighter control when listening via headphones.
Measuring just 52x215x191mm and available in a sleek, minimal Lunar Grey finish, the DacMagic 200M will fit neatly and discreetly into any space. Its compact footprint means it can be placed within an existing audio set-up, on your desk in your home office, or on your TV rack.
Connectivity options include multiple digital inputs (two coaxial, two optical, one USB type-B), Bluetooth aptX support and both balanced and unbalanced analog outputs.
The Cambridge Audio DacMagic 200M is priced £449/$499/€499 and will be available from February 2021.
For more information: https://www.cambridgeaudio.com/
---