CH Precision released the D1.5 SACD/CD Player/Transport.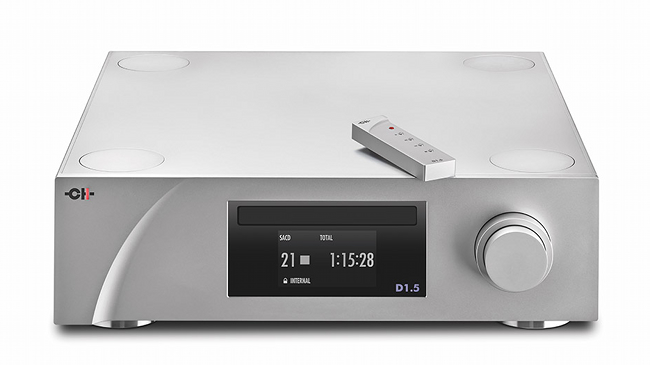 Source: Press Release, Last Accessed: 2021/11/03
The D1 CD/SACD player/transport was CH Precision's first ever product, a discrete multi-channel capable machine that established their -now familiar- user configurable, upgradable, card-cage construction. For over a decade, along with the C1 DAC, it has set the standard for high-resolution disc replay, even though, these days the focus for many listeners has switched to file replay. Now, CH Precision offers a new version, the 1.5, trying to revisit disc playback – Swiss style.
According to the press release, with the constant development of new production techniques, materials and even formats, optical disc has never sounded so good. The emergence of Glass CD, SHM discs, UHQCD and new formats such as MQA-CD has improved performance, giving disc replay a renewed relevance – while millions of existing discs still offer superb performance.
The D1.5 features the same aesthetics, same precision engineering and flawless finish, same versatile, configurable, upgradable character and still is the foundation stone of the CH digital ecosystem – but now delivering a whole new level of performance. To match improving digital standards, the company have developed their own, mechanically damped, high-mass MORSe transport mechanism. The carefully selected optical pick-up and motor are precisely mounted on a massive brass sled that weighs almost 1kg (2.2lbs). This high-mass lowers the mechanical resonance frequency of the module several orders of magnitude lower than in most other transports, while ensuring an ideal counter-weight to the torque of the spinning disc. The complete module is isolated from the rest of the chassis using four alpha-gel isolators, fine-tuned to filter vibrations all the way down to AC mains frequencies.
The digital output board (CH-Link HD, S/PDIF, AES/EBU and TosLink) is supplied as standard. The CH-Link HD connection allows digital output of high-definition material, including DSD direct to the C1 DAC or I1 Integrated Amplifier. In the case of CD replay, the D1.5 allows users to choose between the raw MQA (44.1kHz/16bit) output and an MQB output. It is also possible to fit a pair of dedicated, mono DAC boards, utilizing the proprietary PEtER spline filter algorithm, to create a reference player capable of SACD, CD and MQA CD replay.
For more information: https://www.ch-precision.com/