CSA 150: Copland's top integrated amplifier.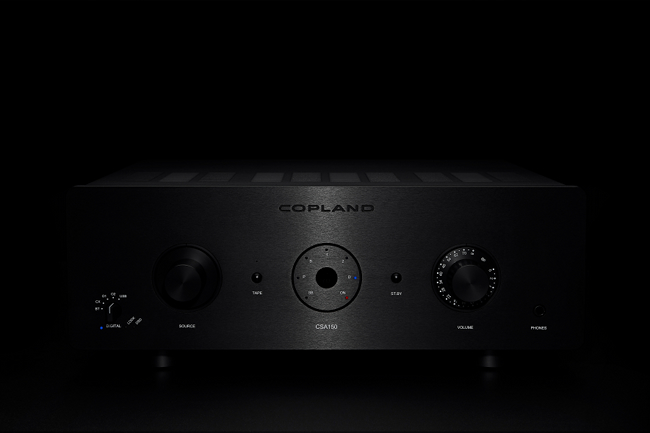 Source: Press Release, Last Accessed: 2021/04/08
The CSA150 is the top model in the new line of Copland CSA series amplifiers, a current feedback power plant which, under dynamic conditions, will allegedly deliver several times its rated power (2x150W/8 Ohm and capable to drive 2 Ohm loads) - enough to drive almost any loudspeaker.
The circuit features the Copland double triode gain stage with MOSFET buffering, ensuring a tight interface between the tube and the solid-state parts of the amplifier and offers immunity to mains fluctuations, load demands and noise interference by use of wide bandwidth power supply regulation, not only for the low-level stages of the amplifier, but also by active regulation of the power amplifier driver stages.
CSA150 includes a D/A converter with multiple S/PDIF inputs, PCM, and DSD capabilities and it is based on the ES9018 Reference 32-bit DAC in quad-mono configuration using the 8 channels offered by the chip to form 2 stereo channels, for better linearity. Besides the digital coax and optical inputs, an additional Bluetooth aptX module makes wireless-capable sources available in wireless-grade HD quality.
Analog connectivity includes three single ended (RCA) as well as one balanced (XLR) input, while, for the vinyl enthusiast, the amplifier also includes a phono input for MM cartridges. Classic tape loop in/out function as well as a pre- out terminal and a front facing 6.3mm headphone output completes the in/out package.
For more information: http://copland.dk/
---