A new star from EarMen.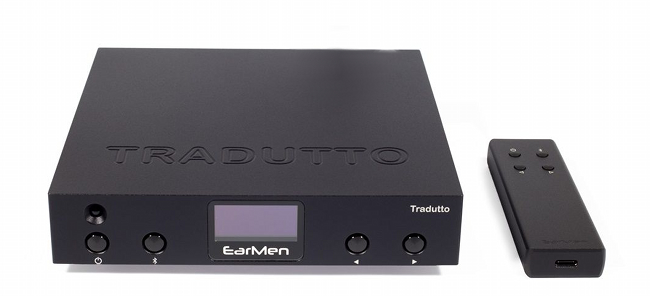 Source: Press Release, Last Accessed: 2021/09/30
After one year of showing up in the Hi-Fi world, EarMen is coming up with a new sophisticated DAC with wide range of abilities to offer. EarMen Tradutto is a piece-of-art device with the power to enhance the sonic performance of your system, the company says.
Tradutto lets you enjoy music from any source, such as Coaxial, USB, Toslink connections or HD Bluetooth. At the heart of Tradutoo is the high-quality ESS Saber digital-to-analog converter ES9038K2M that handles digital audio files up to 32bit/768kHz or DSD512 while the whole circuit is optimized to draw less current and improve power filtering, resulting in low interference from Wi-Fi, cellular, and Bluetooth signals.
The device supports OFS (MQB/MQA Core, decoded file), MQA (MQA file that is hardware decoded in the device and then rendered), MQA Studio (the same as MQA, just with the consent of an author or production company), and features optical, coaxial and USB inputs, an XMOS 16-Core chip (XU216) and built in Qualcomm HD Bluetooth 5.1 (AAC/SBC/aptX/aptx LL/aptx HD).
Tradutto is housed in a chassis made from aluminum block which makes it extremely durable and robust. Compact design makes it fitting to any environment, any system or home, EarMen says. The PCB is embedded in a solid aluminum housing, giving the board greater protection inside the housing and additional insulation from external influences.
For more information: https://earmen-shop.com/
---