iFi introduced the ZEN Stream.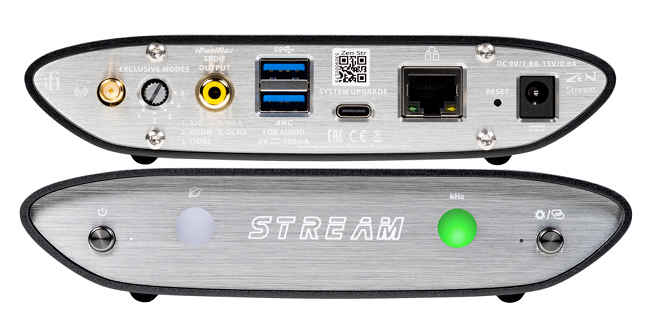 Source: Press Release, Last Accessed: 2021/06/30
iFi introduced the ZEN Stream, a flexible and affordable Wi-Fi audio transport, equipped to unleash the full potential of every digital music source – from online streaming to local network storage. The latest addition to iFi's award-winning ZEN Series of compact and affordable audio devices, designed to deliver flexible, high-quality network streaming to any audio environment the company stated.
iFi describes the Stream as a "Wi-Fi audio transport" meaning, of course that the device is, actually, an audio network bridge between your Wi-Fi network and your audio system. It connects to a router via Wi-Fi or Ethernet cable, and outputs to an external DAC (or an amp with digital inputs) via USB or S/PDIF.
The ZEN Stream features an open-source architecture, so the user is not tied to a specific platform or app, offering a wealth of options and the ability to add more via programmable firmware. Its Linux-based operating system offers exceptional flexibility, with the streaming community encouraged to work with iFi to create additional features to add down the line via OTA (Over The Air) updates iFi says.
The ZEN Stream's hi-res audio credentials are top-notch, supporting PCM up to 32-bit/384kHz and DSD up to 11.2MHz (DSD256) over Wi-Fi – highly unusual – as well as over Ethernet cable. There are multiple ways in which the device can interface with your music collection or favorite streaming service, depending on the user's preference, and thanks to the ZEN Stream's open-source architecture these will expand over time. Some of the options provided at launch include Tidal Connect and Spotify Connect, DLNA certification, AirPlay and Chromecast support, Roon compatibility and NAA operation, in which the Stream can operate as aNetwork Audio Adapter in conjunction with Sygnalist HQPlayer software. This means it can direct packets of audio data received over Wi-Fi or Ethernet cable straight to the connected DAC without applying any processing whatsoever.
Two digital outputs – asynchronous USB and coaxial S/PDIF – provide connection to an external DAC or amp with digital inputs. Both these outputs are regulated by iFi's femto-precision GMT (Global Master Timing) clock circuitry. The USB ports – both input and output – support SuperSpeed USB3.0 and benefit from iFi's ANC II active noise cancellation to remove distortion from the audio signal. Similarly, the S/PDIF output incorporates iFi's iPurifier technology.
The iFi ZEN Stream is already available at a RRP of €399 (£399, $399).
For more information: https://ifi-audio.com/
---