iFi unveiled Signature versions for both ZEN DAC and ZEN CAN.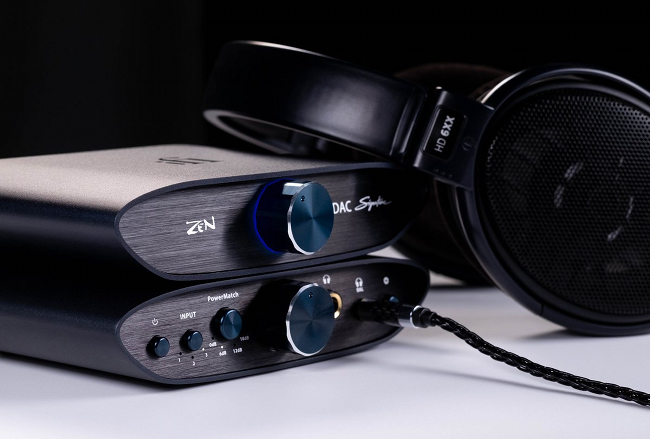 Source: Press Release, Last Accessed: 2021/02/28
iFi has reworked the award-winning ZEN DAC and ZEN CAN to create step-up Signature versions, delivering even higher levels of performance, alongside an associated "crowd design" initiative.
Initially, these products were created in limited number to be sold exclusively by US-based crowd-shopping website Drop.com; now that this limited run has sold through, iFi says is ready to ramp up production and launch these special Signature editions at stockists worldwide. Both models sport a smart new livery, their 158x35x100mm aluminum enclosures finished in deep Space Blue – the color iFi uses to differentiate special Signature editions of its products – rather than the gray finish of the regular ZEN Series devices. This is complemented by dark gray front and rear panels (silver- colored on the standard versions) and blue controls.
ZEN DAC Signature is a design without the built-in headphone amp and an enhanced true-differential balanced topology. Various key surface-mounted circuit components have been upgraded to high-end devices, including Panasonic OS-CON and Elna Silmic II capacitors, while the circuit has been refined to ensure short, direct signal paths for optimal signal purity.
The ZEN DAC Signature's digital stage retains the architecture of its sibling, delivering bit-perfect PCM (up to 32-bit/384kHz), native DSD (up to DSD256) and DXD, plus MQA and features an iFi-programmed XMOS chip for the USB input, and jitter-eradicating, audiophile-grade oscillators. The Signature edition's connectivity is the same as the regular ZEN DAC.
The new ZEN CAN Signature edition, while maintaining the versatile features of the regular version, adds something special – a custom EQ setting, precisely tailored across the entire frequency response curve to make the most of a popular headphone model. This new feature, called ActivEQ, combines active and passive components to create a specific EQ curve to suit a particular pair of headphones, performed in the analogue domain without a hint of added noise or distortion
. The first Signature model, the ZEN CAN Signature 6XX, features ActivEQ for the "Massdrop x Sennheiser HD 6XX" – a popular pair of high-quality headphones (more than 120,000 sold to date) based on the Sennheiser HD 650 and created exclusively for Drop.com. When the "HD 6XX" button is pressed, the ZEN CAN Signature 6XX calibrates its signal to complement the headphone's response characteristics right across the frequency range, thus tailoring its performance to precisely fit the HD 6XX like a made-to-measure suit. ActivEQ aside, the Signature edition sports the same feaures as the regular ZEN CAN. Improvements in the circuit include the use of Panasonic OS-CON and Elna silmic II capacitors.
The Signature 6XX isn't the only ZEN CAN Signature edition that iFi is planning to make. A second version is on the cards, with ActivEQ tailored to another popular headphone model – and iFi wants headphone aficionados to vote for which model they want it to be. Voting is now open here.
For more information: https://ifi-audio.com/
---