IsoAcoustics adds Aperta Sub on Aperta Series, for subwoofer isolation.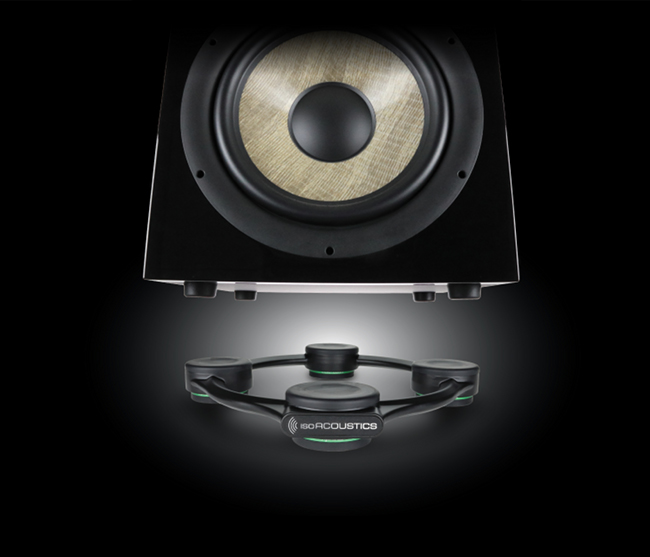 Source: Press Release, Last Accessed: 2021/05/18
IsoAcoustics adds to their award-winning line of isolation products with the Aperta Sub, an isolation stand designed for subwoofers weighing up to 80 pounds (36.3 kg). The Sub allows the listener to discover greater bass definition from their subwoofer with less complaints from their neighbors.
The large driver of any subwoofer produces energy and vibrations that travel through solid structures that create issues in the listening space and can often be disturbing to others. Room treatment can be costly and doesn't mitigate structure borne-noises. Enter the Aperta Sub isolation stand that not only reduces these disturbances, but also delivers better sounding audio, IsoAcoustics says. Decoupling the subwoofer from its supporting surface, the Aperta Sub manages the energy from the subwoofer and prevents the physical transfer of energy through the supporting structure.
The design of the Aperta Sub is simplicity itself: it consists of top and bottom isolators, each connected by a rigid frame that provides a stable base and lifts the subwoofer off the floor. Aperta means "open" in Italian, which -according to the press release, describes the stand's stylized design that creates open space and compliments its surroundings. The patented IsoAcoustics isolators are directional and designed to be aligned with the subwoofers drivers to maintain the energy on-axis.
The Aperta Sub has an innovative shape that provides stability and avoids interference with existing subwoofer feet. It has a low-profile and compact design, measuring 265mmx290mmx33mm, and is made to be used with front-firing and side-firing subwoofers that weigh up to36.3kg. The Aperta Sub also includes carpet disks which feature 15mm spikes that anchor into carpeted surfaces for a firm setting.
For more information: https://isoacoustics.com/
---