New Klipsch Cinema soundbars usher in room-thrilling sound.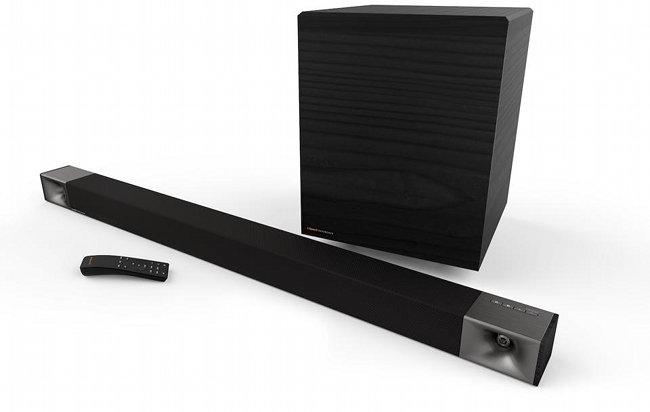 Source: Press Release, Last Accessed: 2020/12/02
Klipsch recently announced a new soundbar line which comprises Cinema 400, Cinema 600, Cinema 800, and Cinema 1200 models and offers an extensive range of movie and music-led features. All of the new models include a sleekly styled soundbar and matching subwoofer.
Highlights include a Dolby Atmos-capable 5.1.4 system; compatibility with Amazon Alexa, Google Assistant and Spotify Connect; matching wireless subwoofers; and 8K pass-through. Klipsch houses all this latest tech in something a little more aged (and lovely) – real wood cabinets. The result is a collection of beautifully finished soundbar/subwoofer packages, primed for action and set to complement any home decor, the company says.
Klipsch Cinema 400 is the entry-level model, featuring a pair of Klipsch Tractrix 1-inch tweeters and a brace of 3-inch midrange drivers, virtual surround, dialogue-enhancing and night modes, plus built-in Dolby Audio decoding.
The Cinema 600 features three of the same Klipsch Tractrix tweeters, four of those 76mm midrange drivers, and employs the even more powerful 10-inch (254mm) wireless subwoofer. The "800" package stylishly brings Dolby Atmos into the home, enabling 7.1.4 decoding and creating overhead sound for greater immersion. This model also handles wireless music streaming, integrating into your smart home ecosystem via Amazon Alexa, Google Assistant, and Spotify Connect. Additionally, the Cinema 800 offers 8K video pass-through.
The flagship of the new Klipsch soundbar fleet is the Cinema 1200. In the box lurks a muscular 5.1.4 system, complete with wireless surrounds, as well as the 12-inch (305mm) wireless subwoofer. The Cinema 1200's built-in universal Wi-Fi works with wireless multi-room music streaming from Amazon Alexa, Google Home, and Spotify Connect, and this Klipsch is as gifted with music and gaming audio as it is with movie soundtracks and TV sounds. Klipsch crafts the Cinema 1200 soundbar, the subwoofer and surrounds from real wood and the package includes interchangeable walnut end caps.
For more information: https://www.klipsch.com/
---