Klipsch unveiled 75th Anniversary Klipschorn.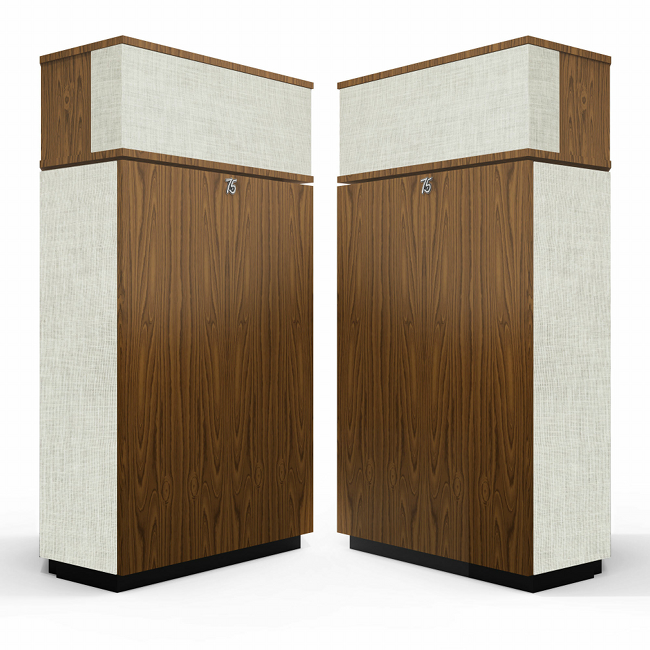 Source: Press Release, Last Accessed: 2021/11/03
Celebrating their 75th anniversary, Klipsch introduced a limited run of 75 pairs of the iconic Klipschorn loudspeaker. According to the press release, the ultra-efficient Klipschorn was developed in 1946 by audio pioneer and company founder Paul W. Klipsch to enable people, for the first time, to experience the power, detail and emotion of a live performance at home. It is the only speaker in the world to be in continuous production for 75 years and has remained relatively unchanged since its inception.
The 75th Anniversary Klipschorn AK6 features a fully enclosed low frequency horn cabinet, offering more placement versatility in the listening room, with the enclosure functioning as a corner, delivering powerful bass performance and improved imaging. A 1-inch titanium tweeter and 90°x40° Tractrix horn extends the output of high frequencies beyond 20kHz.
The special 75th Anniversary Klipschorn speakers feature unique real wood teak veneer and lambswool grilles, chosen specifically to highlight the elegance and longevity of the 75th anniversary Klipschorn, while paying homage to the mid-century modern design tenets present in the Klipsch Heritage series.
Aesthetics include a nostalgic 75th logo on front of speaker with a natural diamond that accentuates the specially designed logo made of sterling silver, hand-applied enamel, and rhodium plating and a commemorative plaque with laser engraved serial number, date, and signature of the crafts-person.
The anniversary package also includes an exclusive engraved commemorative, record-size box that contains a 75th anniversary book, poster, a lighted logo sign, a pair of Klipsch T5 II earphones engraved with the 75th logo, a set of four leather coasters, a free one-year membership to the Klipsch Museum of Audio History, a three-month Qobuz membership, and a certificate of authenticity.
Each Heritage speaker continues to be designed and handcrafted in the USA, using grain-matched wood veneer panels from the same timber, resulting in a speaker pair that is indistinguishable from the other. They are also backed by a 10-year warranty.
The 75th Anniversary Klipschorn speakers (MSRP $25,000/pair) are now available exclusively at Certified Klipsch Heritage Dealers.
For more information: https://www.klipsch.com/
---