Luxman celebrates 95 years with the L595A Special Edition integrated amplifier.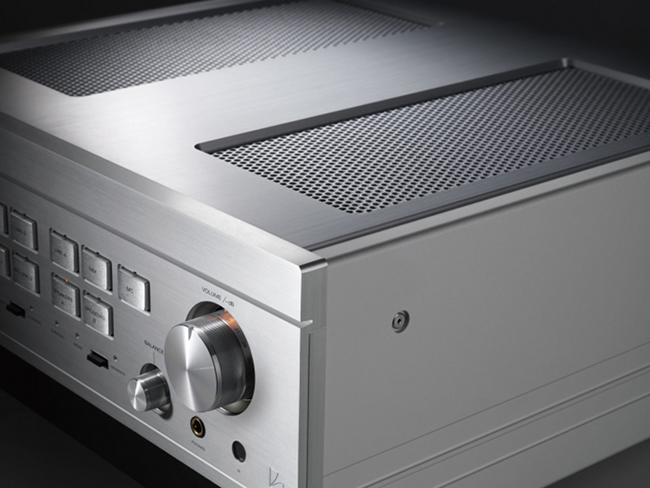 Source: Press Release, Last Accessed: 2021/05/30
The new Luxman L-595A Special Edition is a Class A integrated amplifier built to commemorate Luxman's 95th anniversary. The unique industrial design re-imagines the highly regarded L-570 series first released in 1989. In place of a conventional serial number, a back-panel plate identifies the amplifier as a 95th Anniversary limited offering and cites a three-digit serial number. With a limited production, first deliveries will be expected in June at a suggested retail price of $11,995 (in the US).
The Luxman L-595A Special Edition combines advanced technology and a massive physical presence. Luxman enthusiasts will note that unlike recent Luxman amplifiers, the new model does not include front panel VU meters. Instead of a rotary input selector, the amplifier features an array of aluminum clad direct selection switch gear, each with a LED indicator. The Luxman aluminum front panel is accented by a black Alumite lower section, creating an elegant, two-tone scheme reminiscent of the original L-570 series. The calibrated volume control features a bold counterbore and indicator light. Both the front and top panels also feature Luxman's signature hairline finish.
True to its heritage, the L-595A Special Edition is a Pure Class A design up to its rated power into 8 Ohm loads. During Class A operation, the output transistors operate all the time – no duty cycle switching on and off. The result is music reproduction of stunning textural clarity, Luxman says.
Since -even minuscule- inaccuracies in the application of negative feedback can compromise the expressive power of music reproduction, Luxman incorporates the most advanced version of their Only Distortion Negative Feedback (ultimate) – ODNF-u – circuit, with improved error detection. For the volume setting, the L-595ASE incorporates the Luxman Electronically Controlled Ultimate Attenuator, LECUA1000, first used in the range topping C-900u control amplifier. This computerized precision attenuator delivers meticulous volume adjustment across 88 steps, while minimizing distortion.
The amplifier yields 30WRMS/channel into 8 ohm loads and 60WRMS/channel at 4 Ohms, and is stable into 2 Ohms, through a 3-stage Darlington, triple-parallel push-pull configuration and an oversized, highly-regulated power transformer and large, independent left/right filter custom capacitors.
Connectivity includes a built-in phono preamplifier with MM/MC, preamp output/main amp input terminals for bi-amping and separate function to support home theater installations, two separate balanced XLR line input pairs and A + B loudspeaker output terminals with multi-way binding posts. Other features include bass and treble adjustment, loudness compensation linked to volume-control setting and a remote control that also operates current Luxman digital players.
For more information: http://www.luxman.com/
---