McIntosh unveiled the new MCD85 SACD/CD player.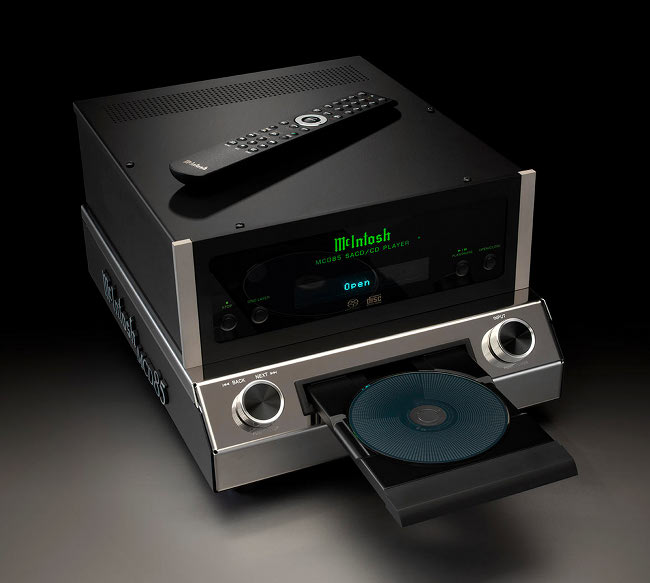 Source: Corporate website, Last Accessed: 2021/02/22
With the great success of their similarly retro styled MC275 and MC1502 vacuum tube amplifiers, MA252 and MA352 integrated amplifiers, and the warm reception of the recently introduced MC830 solid state amplifier and C8 vacuum tube preamplifier that also have retro touches, it's clear that many people want their home stereo system not to blend in, but instead to be distinctive looking.
The MCD85 can play store bought SACDs and CDs as well as music from homemade CD or DVD data discs. Numerous file formats can be played from these discs including AAC, AIFF, ALAC, DSD (up to DSD128), FLAC, MP3, WAV, and WMA. The USB Audio input supports up to DSD256 and DXD 384kHz, and can be used to stream digital music from a computer or other digital storage device. There's also two coaxial and two optical digital inputs that support PCM signals up to 192kHz.
Conversion of the digital data stored on the discs or in the digital music stream into an analog signal for playback, is performed by a quad balanced, 8-channel, 32-bit/192kHz Digital-to-Analog Converter (DAC). Both balanced and unbalanced fixed analog stereo outputs are available to connect the MCD85 to your preamplifier, integrated amplifier, and other home audio system components.
The MCD85 employs 2x read speed, meaning all discs placed in its sturdy die-cast tray are read at higher speeds, allowing their data to be stored in a buffer memory for better error correction and tracking. Disc reading is performed in the high-quality disc mechanism by a twin laser optical pickup that uses a single objective lens with two laser units, with each employing different wavelengths that are optimized for SACD and CD playback.
The MCD85 features a black glass front panel with direct LED backlight for improved appearance, silver trim, an illuminated logo, and rotary control knobs.
For more information: https://www.mcintoshlabs.com/
---