Monitor Audio announced the seventh generation of their Silver Series loudspeakers.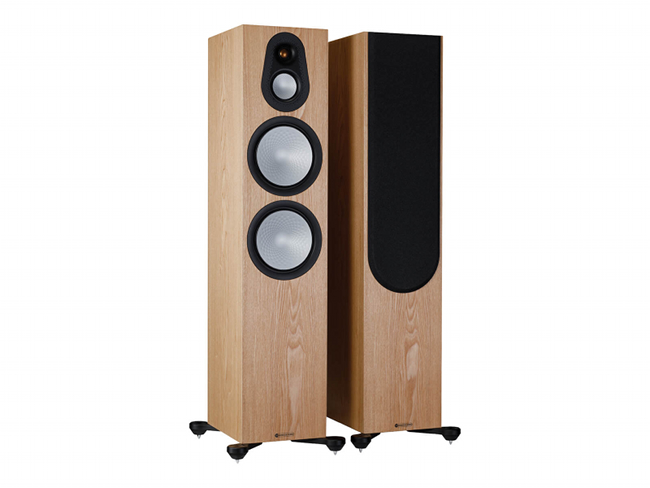 Source: Press Release, Last Accessed: 2021/08/23
Ever since the Silver Series was introduced in 1999, it has set standards where performance, finish and value for money are concerned. And with the new seventh generation, Monitor Audio aspires to put even more distance between the Silver Series and its nominal competition.
According to the press release, the seventh generation of the Silver Series features a brand-new, contemporary design in a choice of five high-quality finishes, numerous acoustic innovations and a model line-up extensive enough to cater for every music and home cinema requirement.
The available finishes are deeply lustrous high-gloss black lacquer, equally distinctive satin white, or a choice of three real-wood veneers: Ash, Natural Walnut and Black Oak. Every model, from the Silver 50 7G and Silver 100 7G bookshelf/standmount speakers, through the Silver 200 7G, Silver 300 7G and Silver 500 7G floorstanders, to the home cinema-specific Silver C250 7G center channel, Silver FX 7G rear surround speakers and Silver AMS 7G Dolby Atmos enabled speaker, is a result of performance-led design, Monitor Audio states.
The new C-CAM gold dome tweeter design features a new Uniform Dispersion Waveguide (II), while the new RST II midrange and mid/bass drivers feature a more rigid profile than ever before, with its new hexagonal dimpled structure just one indicator of the changes to the cone and geometry structure that result in smooth, low-distortion sound. A new crossover design offers an elegant solution to the problem of splitting frequency information between drivers in a smooth, controlled manner, the company says.
Every seventh generation Silver Series loudspeaker features new driver trims, minimizing the appearance of the driver surround and creating a harmonious look. Every floorstander is supplied with outrigger feet with spun metal trims, developed for the best stability on carpeted or hard floors. Monitor Audio developed new magnetic grilles with a premium grade weave, which give visual depth and texture as well as a very tidy appearance.
For more information: https://www.monitoraudio.com/
---