Nagra are celebrating their 70th anniversary with a limited edition turntable.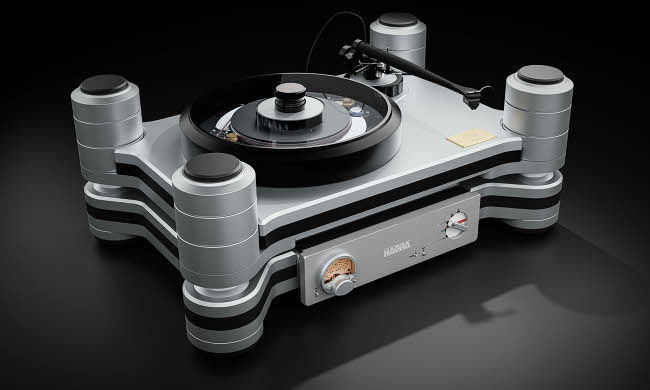 Source: Press Release, Last Accessed: 2021/11/24
The Swiss company (Audio Technology Switzerland/Nagra) announced they are celebrating their 70th anniversary in style with a limited edition turntable. The Reference Anniversary is the product of a years long, major research and development project that has been kept under wraps until this past summer.
In 1951, Nagra's founder Stefan Kudelski invented the first portable recorder, simply called the Nagra I. Nagra comes from a Polish word that means "it is recording". The Nagra I was followed by an impressive trail of game-changing products that revolutionized the face of sound recording. Its impact has been tremendous in the field of art, science, ethnology. It changed the way we capture sound and brought a soundtrack to the world, making recordings where before nothing was ever captured.
During the golden age of analog, the idea to make a Nagra turntable was often discussed. Kudelski himself, even filed a patent in 1972 for a special tonearm tracking system. While often contemplated, it was not until four years ago that the design and engineering of a turntable befitting the name Nagra began.
The heart of the Reference Anniversary turntable is its motor drive system which employs dual high precision, Swiss made, decoupled, brushless DC motors. Speed calibration is done over a 20 second window during which time the platter's speed is precisely calibrated during actual playback (stylus in groove). An accelerometer monitors the floating chassis to ensure that it is absolutely stable otherwise calibration does not take place.
The platter features a highly specialized, very high density (60% more dense than titanium), non-ferrous alloy with extreme damping properties called Exium AM, CNC machined into the exacting specifications of the Reference Anniversary turntable's 6.5 kg platter. Beneath the platter is a high strength aluminum sub-platter and shaft/bearing system, the former machined from spheroidal graphite iron, while the later is comprised of stacked carbide balls which have been subjected to the highest polish grade possible.
Chassis and sub-chassis are massive plates of aircraft grade aluminum and phenolic, CNC machined to form a low resonance, high rigidity, layered structure, while the suspension employs both a spring mechanism and a highly viscous fluid contained in a "diver/chamber" configuration.
Nagra says that the Reference Anniversary turntable was designed as a system. This means that the turntable and its tonearm were designed to work from the "ground up" as a unified playback system. The arm-wand is a dual concentric carbon fiber including an intermediary layer of wood. The arm is a single 10.5-inch piece, meaning that there is no separate head shell (and concomitant deleterious joint). Bearing is a simple, extremely precise, CNC machined, hardened steel cone captured in a resonance isolating, silicone damped, ultra high density polyethylene receiving cup. The tonearm's traditional counterweight is supplemented by a low hung, saddle shaped weight providing stability while minimizing the tonearm's effective mass.
The Reference Anniversary is available as a very limited edition of 70 units, each of which includes "in home" set up and dial-in by Nagra factory specialists, invitation to Nagra factory for VIP tour and exclusive accessories.
For more information: https://www.nagraaudio.com/
---