Paradigm launched the Founder loudspeaker series.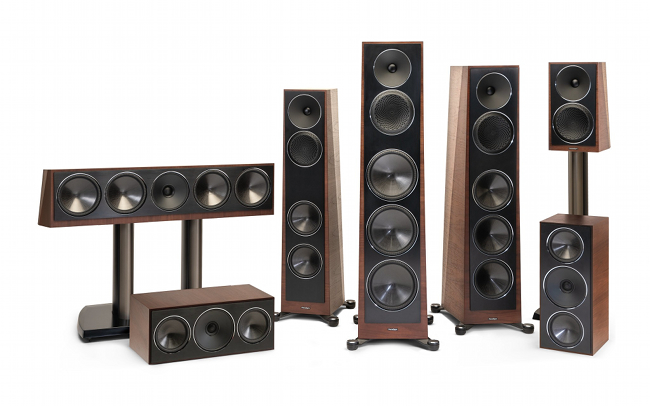 Source: Press Release, Last Accessed: 2021/03/05
Canadian speaker specialist Paradigm has brought together innovations from its flagship Persona range along with a host of new technologies and approaches and launched the Founder speaker series.
Paradigm's six model range is aimed at both Hi-Fi and home cinema enthusiasts and consists of three floorstanders: the Founder 80F, Founder 100F and Founder 120H which has a hybrid active/passive design with ARC Genesis room correction; the Founder 40B standmount; Founder 90C center, and Founder 70LCR which can be installed vertically or horizontally.
The range sports new driver designs, cabinet construction and hardware which brings it all together. These are spread throughout the Founder range and see the 20cm wide Founder 40B speaker equipped with a single 1-inch AL-MAC Ceramic Dome tweeter plus an OSW waveguide along with a 6-inch Ultra-High-Excursion AL-MAG mid/bass driver with a PPA Lens and ART surround. The multi purpose Founder 70LCR with its dual orientation option to enable use as a center speaker, main stereo pair or surround unit has a 1-inch AL-MAC Ceramic Dome tweeter with OSW waveguide and PPA lens co-axially mounted in a 7-inch AL-MAG midrange driver and is flanked by two 5.5-inch CARBON-X bass drivers. The center channel specific Founder 90C is a true full-range center loudspeaker that can play down to 47Hz and has a similar tweeter/midrange arrangement to the 70LCR but this time located between two 7-inch CARBON-X bass drivers and two 7-inch passive radiators with ART surrounds.
Moving onto the floorstanders and the affordably priced Founder 80F with its two-and-a-halfway design can reach down to a low 28Hz and uses a 1-inch AL-MAC Ceramic Dome tweeter, a 6-inch Ultra-High-Excursion AL-MAG mid/bass driver and two 6-inch Ultra-High-Excursion CARBON-X cones with over-molded ART surrounds. The 100F tower speaker upgrades the bass drivers to three 7-inch CARBON-X cones and adds a Resonance Mitigation Coupler to the 6-inch mid/bass driver.
Finally, the flagship 120H floorstanding loudspeaker ups the ante with a 7-inch midrange AL-MAG cone with a Resonance Mitigation Coupler, PPA lens and 2-inch high-temp voice coil; and three 8-inch Ultra-High-Excursion CARBON-X cones with ART surrounds driven by an integrated 1,000-watt amplifier. This is all added to the standard 1-inch AL-MAC tweeter, while the built-in ARC Genesis Room Correction delivers bass down to 18Hz in any room. All models are available in a choice of four artisan-grade finishes – Walnut or Black Walnut fine-quality wood veneer, and Midnight Cherry or Piano Black high gloss.
For more information: https://www.paradigm.com/
---