Thirty years of experience: Pro-Ject Audio celebrates with the Debut PRO.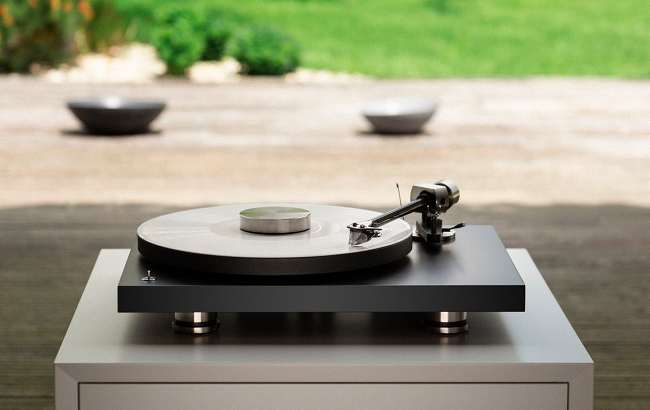 Source: Press Release, Last Accessed: 2021/07/15
The Debut Carbon EVO revolutionized the Debut series in 2020. Now the Debut PRO raises the bar even higher, since the company designed not only a new turntable but also an entirely new cartridge. Now, for the 30th anniversary, Pro-Ject is again going back to their roots.
The Debut PRO comes equipped with a single-piece carbon-aluminum hybrid tonearm. A carbon layer gives the tonearm a high degree of rigidity, while the inner aluminum tube takes over the damping of the tonearm.
Pro-Ject in cooperation with Ortofon, were able to produce a very special cartridge: The Pick it PRO. The Pick it PRO delivers a more lively and robust sound and convinces with its big dynamic range, the company says. The Debut PRO's new tonearm allows both azimuth and the vertical tracking angle (VTA) adjustment. The user can continuously adjust the tonearm height.
The Debut PRO brings a new design to Pro-Ject turntables. The nickel-finished aluminum components offer a harder, more resistant surface and the precision CNC milled parts are optically perfectly matched and underline the modern, simple and, elegant design Pro-Ject states. The die-cast aluminum platter is reworked and precision balanced in an extra step to perfect the platter. The heavy aluminum platter has a TPE (thermoplastic elastomer) ring affixed to the inside that helps dampen resonances entirely and minimize wow and flutter. The motor is electronically controlled through a toggle switch and a separate round belt enables 78rpm for shellac records. Motor vibrations are better damped due to the new, proven motor suspension for perfect motor decoupling, the company says.
According to the press release, the Pro-Ject 1 and its successor, the Debut series, revolutionized listening to music bringing back the love of analogue playback devices – a turning point for the vinyl industry, the Debut PRO is a milestone for the next decades: A cult product that celebrates the great success of analogue music reproduction and the joy of stereo Hi-Fi in the home.
The Debut Carbon PRO including cartridge is available for MSRP €750 (incl. VAT) at Pro-Ject dealers, August 2021.
For more information: https://www.project-audio.com/
---