Q Acoustics announced the availability of their floorstanding Q Active 400 loudspeaker.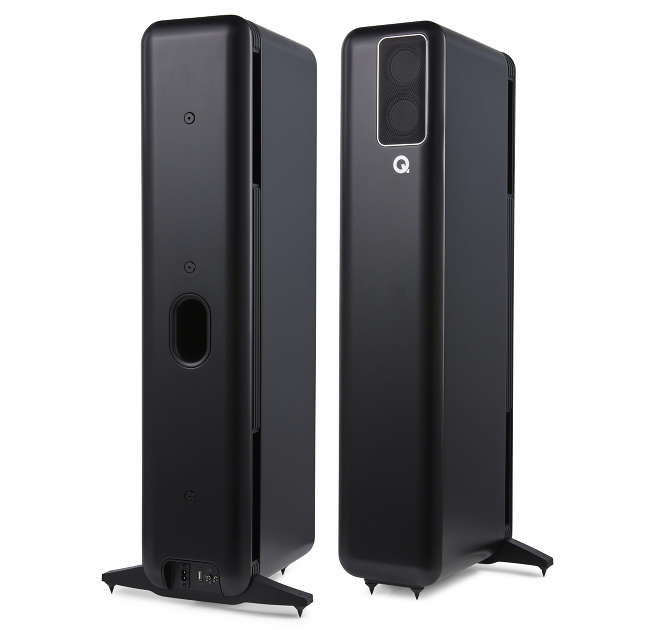 Source: Press Release, Last Accessed: 2021/05/26
Q Acoustics has designed the Q Active range from the ground up, with the express intent of delivering an uncompromised, versatile high-resolution system that can play music from any source – TV, network music streamer, smartphone, laptop, and even a turntable. Now the floorstanding model of the series, the "400", is available.
The Q Active range is a true active design, with class D amplification eliminating the need for a bulky external amp or receiver. Both Q Active 200 and Q Active 400 speakers feature twin Balanced Mode Radiator (BMR) drive units in an offset configuration that deliver a widescreen sound dispersal and a huge sweet spot: so no matter where you're sitting in the room, you'll hear the same rich, detailed and expressive sound from the Q Active speakers.
Although the Q Active 400 have the same BMR drive unit arrangement as the Active 200, they feature eight discrete amplifiers with 440W of total power output. The key difference with the Q Active 400, besides its taller cabinet size, is that it features two rear-firing 4.5in subwoofers: one subwoofer at the top of the cabinet, one at the bottom. This arrangement neutralizes the cabinet's internal standing waves, which in turn reduces unwanted resonance and delivers a cleaner, tighter bass sound, the company says. A compact central Control Hub configured either for Google "Chromecast built-in" or Amazon "Works with Alexa" is supplied, that can be connected to your home network using Ethernet or Wi-Fi. You can connect to wireless sources using Bluetooth, Apple AirPlay 2, Roon and Spotify Connect. The speakers can also operate as a UPnP media player capable of streaming your digital audio library from a computer or NAS drive. For wired sources, the Control Hub offers an HDMI ARC input, an optical digital input, an analogue line level input and a subwoofer output. You can also plug your turntable into the Hub – it features a built-in moving magnet phono stage.
The Control Hub links to the Q Active speakers via a wireless connection where all incoming audio (Max Source Resolution 32bit/192kHZ) is converted to 24-bit/96kHz hi-res audio, making for a beautifully simple system free from the tangle of speaker cables. The wireless design means the Control Hub can be placed out of sight if desired: behind a TV, in a cupboard or on a rack. A remote control is also included with each Hub.
Q Active 400 is available in two finishes: matte white and matte black.
For more information: https://www.qacoustics.co.uk/
---