Surround yourself in absolute realism with Sony's new flagship 7.1.2 channel HT-A7000 soundbar.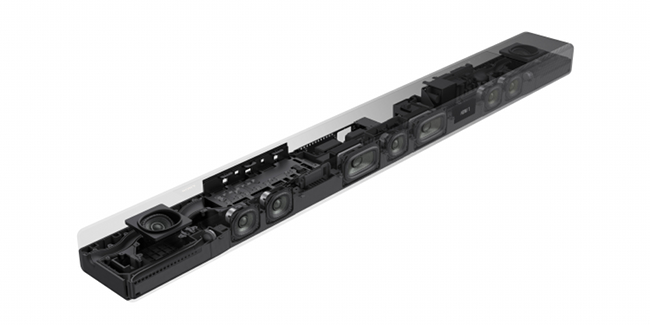 Source: Press Release, Last Accessed: 2021/07/20
Sony introduced their flagship soundbar HT-A7000, that lets you discover a whole new level of immersion. Surround yourself in absolute realism as the HT-A7000 has 7.1.2 channels, two up-firing speakers for overhead sound, two beam tweeters and five front speakers for wider surround and a built-in dual subwoofer for deep bass. Coupled with Vertical Surround Engine and SForce PRO Front Surround, the HT-A7000 creates virtual surround sound that comes from all around you so you can fully enjoy the thrill of Dolby Atmos and DTS:X.
Thanks to Sony's Vertical Surround Engine, the HT-A7000 can position sound in vertical space so you can experience overhead sound without the need for in-ceiling speakers. As well as S- Force Pro Front Surround, it virtually produces the surround sound field with audio coming at you from both sides. Sophisticated speaker technology.
The HT-A7000 comes with two up-firing speakers that reflect sound off the ceiling for overhead sound. The up-firing speakers, when combined with the Vertical Surround Engine, gives an even more atmospheric overhead sound experience. Beam tweeters bounce sound off the side walls and expand the surround sound to give you an immersive experience that goes beyond the size of the TV. When this is combined with S-Force PRO Front Surround it gives you even wider surround sound for a fully immersive experience.
The HT-A7000 supports 360 Reality Audio that offers a truly immersive live concert or studio session experience. You can enjoy 360 Reality Audio on Amazon Music HD, Deezer, nugs.net and TIDAL. Additionally, the HT-A7000 features DSEE Extreme for real-time restoration of all your compressed digital music files.
The HT-A7000 includes built-in microphones that do all the work for you to give you perfect surround sound for your room. Also, there's no need to precisely place speakers. Sound Field Optimization intelligently measure the height and width of the room, as well as the position of the optional subwoofer and rear speakers and optimizes the sound to perfectly to your room layout.
When connected to a Bravia TV with Acoustic Center Sync using the supplied cable, both the soundbar and the TV become the center speaker in your home cinema system. This enables you to hear dialogue from exactly where the character is standing in the scene.
The HT-A7000 offers easy access to popular music services like Spotify and stream all your favorite albums and playlists using Chromecast, Spotify Connect or Apply AirPlay 2. You can also stream wirelessly from your smartphone with Bluetooth technology or use the built in Wi-Fi to stream music from your own devices. Connectivity includes HDMI in and out (eARC) and SCENTER Out for compatible Bravis models.
The HT-A7000 model is available at approximately €1,300, with the SA-SW5 optional subwoofer at €800, the SW-SW3 at €500 and the SA-RS3S wireless rear speakers at €500.
For more information: https://electronics.sony.com/
---