T+A announced the new Series 200.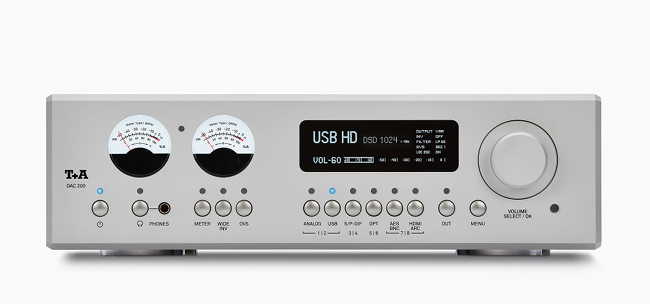 Source: Press Release, Last Accessed: 2021/09/25
T+A elektroakustik, unveiled a new, compact High-End series, the Series 200, which picks up the external design features of the HA 200 reference-standard headphone amplifier. The whole series consists of the MP 200 multi-source player, the DAC 200 DAC/Preamplifier and the A 200 output stage.
According to the press release, the new Series 200 reaches far back into the past, as its external design leans heavily on the legendary M-system dating from the year 1993. However, the Herford designers replaced the characteristic chrome of the 1990's with timeless aluminum in a matte black or silver finish.
The front panel of the DAC 200 echoes specific details of the HA 200, thereby integrating it into the series. The new MP 200 assumes the role of the classic multi-source player, while the DAC 200 was conceived as a dedicated DAC and preamplifier. The A 200 output stage forms the final link in the chain.
T+A is exploiting its Modular High-End Architecture (MHA), which in the case of the DAC 200 includes the capability to convert DSD1024 and PCM768 files as well as including amplifier sections utilizing Class A and HV technology. The MP 200 provides access to services such as Tidal, Deezer, Qobuz and Roon (currently undergoing certification) as well as a convenient system control using the T+A MusicNavigator app. For customers using passive loudspeakers, the system is completed with the A 200 and its output of 250 Watt per channel, whereas headphone users can either connect the HA 200 reference headphone Amplifier, or use the DAC 200's 4.4mm Pentaconn output.
All the Series 200 devices are already available.
For more information: https://www.ta-hifi.de/
---