Technics announced the SB-G90M2, a new high-end floorstanding speaker system.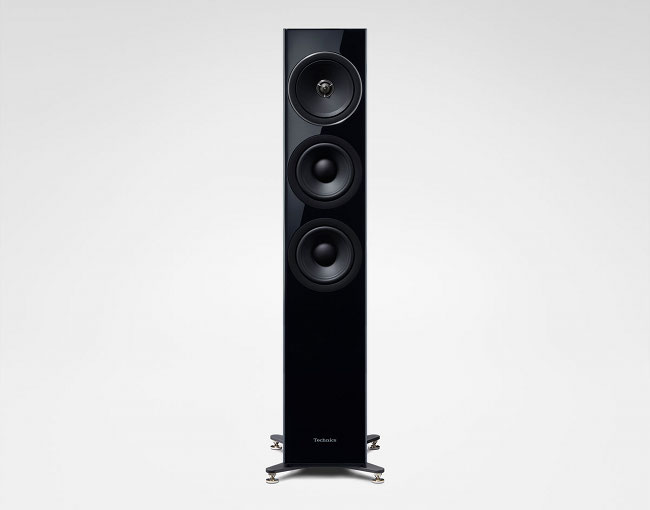 Source: Press Release, Last Accessed: 2021/09/07
Technics announced the launch of the new SB-G90M2 floor-standing loudspeaker in the Grand Class series, a 3-way bass reflex loudspeaker consisting of a 2-way coaxial driver combining a 25mm dome and a 160mm midrange cone made of aluminum, accompanied by two 160mm aluminum woofers. With the new SB-G90M2, thorough CAE analysis was used to optimize drivers, elements and enclosure structures to efficiently eliminate unwanted vibrations and distortions, the company says.
According to the press release, the diaphragm of the coaxial driver unit has been reworked, been newly calculated by FEM (Finite Elements Method) simulation for reduced resonance and a more natural midrange with less distortion, and he inner baffle onto which the woofers are mounted at their center of gravity around the magnet has now been extended to one plate attached to the base board, so vibrations can escape to the ground.
The whole inner stiffening structure has been redesigned in the lower part of the cabinet. The so-called Standing Wave Termination Structure – a multiple-folded wave guide containing a controlled amount of acoustically absorbing material – will efficiently eliminate standing waves, at the same time minimizing the use of acoustic damping material while, responding to requests from their customer base, the new SB-G90M2 now features bi-wiring speaker terminals.
The SB-G90M2 loudspeaker system will be available in Europe from October 2021 in a luxurious high-quality black gloss finish.
For more information: https://www.technics.com/
---